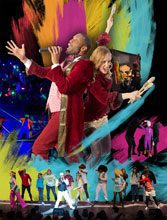 Experience ARTRAGEOUS, a troupe of 12 artists, singers, dancers and musicians, creating art on the stage of USCB Center for the Arts, on March 29 at 7:30 pm. Imagine the excitement of a team of exceptional artists painting at electric speed, creating giant works of art, right before your very eyes – accompanied by live music, powerful vocals, and creative choreography. ARTRAGEOUS is a unique visual journey of wild inspiration, creativity and fun for all ages.  
A theatre arts community since the 80's, ARTRAGEOUS brings their passion for the arts to each theatre they visit, leaving their audiences of all ages smiling and singing and dancing along. ARTRAGEOUS has been fortunate to perform for theatre-goers and celebrities, and their artworks are in private and public galleries around the world.
Tickets on sale now online (www.uscbcenterforthearts.com), at the box-office (843-521-4145). or at the door.  Ticket prices are: Adult $35, Senior/Military $30, Student $15.