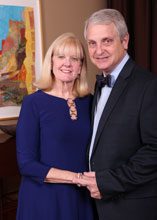 Terri & Mark Stokes of Bay Street Jewelers in Beaufort were honored with a 14-karat gold and diamond pin to signify twenty years of membership in the Independent Jewelers Organization (IJO), at IJO's recent semi-annual conference held in Phoenix, Arizona. 
 IJO is an international organization focused on helping its members work smarter through networking and education.  While in Phoenix the Stokes were able to participate in many hours of seminars, while also having the opportunity to see the very latest in jewelry designs on exhibit by more than 195 manufacturers and exclusive designers.
"Being a part of IJO all these years has changed the way I do business and has turned out to be a great benefit to my customers," Terri Stokes stated.  "By being the exclusive Master IJO Jeweler in this area, I'm able to offer the quality, integrity and trust my customers deserve, and the very finest product on the market."
IJO President & CEO Jeff Roberts added, "We're honored to have Bay Street Jewelers as a part of our IJO family, and over these twenty years Terri and Mark have made a really positive contribution for the good of the entire organization."
Mark is a past  member of the IJO Board of Directors and has served on the Vendor Selection Committee. He and Terri have also enjoyed traveling to Antwerp with IJO to hand select diamonds for clients.
Whether you're a potential new customer or a returning one, Bay Street Jewelers, located at 902 Bay Street in Beaufort, would love to have you stop by to see what's new in the exciting world of jewelry.