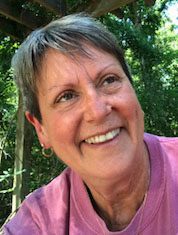 On March 9, I finished the Parris Island Sprint Triathlon. Key word: Finished. However, it is the journey to the end of the race at the heart of the experience. A cliche I know, the journey being the better part of the destination, but it is the better part of the story.
A few months ago, maybe October, I ran into Denise, my now Y-trainer, in Publix. Thank God, I wasn't in the bakery section. We said hello in the meat section. I could recognize Denise by her giant smile and her muscle-of-a-body, but not by name. It was the second time I'd randomly run into her. This time was a reckoning. I hadn't been exercising, had just made goal (again) at Weight Watchers, and knew I needed discipline and accountability to someone, anyone, for my aging body. I committed to meet with her.
Personal training is a luxury. I know this. I also know that when I invest money, all of a sudden the commitment has a financial consequence. I need a payoff. And, when I am one-on-one, there is no hiding. Denise agreed to take me on. We meet on Mondays. On Wednesdays, I am in her spinning class. On Fridays, it's TRX. I own my efforts the remaining days.
"You should do the Marine triathlon in March," Denise said to me one Monday morning in December.
"I should do a lot of things," I probably responded. The seed was planted.
The last time I did a triathlon was sixteen years ago in Chicago. I was forty-five, in good shape, and just laid off. That's when Mac and I decided to move to Beaufort. To get out of the snow. To start over. To return to the place we'd first met – Mac the Marine and Vivian the chemical sales rep. The more I thought about a triathlon, the more I thought about my age. Sixty-one now. Sagging in places I never knew could sag. Muscles that forgot what they were. A psyche damaged by loss, and more loss.
A few years back, I remember taking my Mom to PI to watch my brother Stan, my sister-in-law Paula, and Natalie, my niece run this race. I was a bit envious of the competitive throng. People of all shapes and sizes challenging themselves to swim, bike and run in succession. I was content to cheer them on. I was happy to be the daughter escorting my mother to the race.
Last year, at sixty, a marker where life decisions are made, the best I could do was focus on reclaiming my home. Colors were out of date and it needed painting. The carpet was twenty years old and displayed the stains of errant pets and sickness. There was too much clutter – in the kitchen, the closets, under the beds, and on the bookshelves. The clutter has not completely disappeared. I am still trying to understand the joy or lack thereof of material goods.
My milestone at sixty was a facelift for the house. My milestone at sixty-one was to sign up for the triathlon and I did that in January. At the beginning of February, I went on-line to understand the penalty of withdrawing. I could defer to another race, but I could not get my money back. I had skin in the game. My wallet was involved.
So, I had my bike tuned up, committed certain days to swimming, and ran a mile or two when I realized March 9 was getting closer. I kept training with Denise. I weighed in at WW. I was 9 lbs heavier than I was in October. 
"That's not right," I said. "No way." I'd been working out the last four months. It was February. I had gained 9 lbs. "It's wrong," I said again. I'd never been so emphatic at WW.
"Try the other scale," the woman replied, a bit flustered by my indignation and surprise.
I climbed on. Same weight. Nine pound weight gain confirmed. My sister tried to console me via text reminding me that muscle weighs more than fat. It hardly mattered. Gaining nine pounds in four months was a disaster.
Onto the triathlon. Saturday morning. I am number 372 out of 425 participants. I think my age and the fact that I listed a pretty slow swim time resulted in a high number. The morning starts with getting a timing chip wrapped around your ankle and having your number printed in black magic marker on your arms and thighs. Your age goes on the back of your right calf. 61. What was I thinking.
After the national anthem, the race began to background music of Eminem and Prince. Every ten seconds, a swimmer entered the water. About 45 minutes into the race, it was my turn. I fell into the pool. I was supposed to jump in, but my foot slipped. Underwater, my brain said, "Now what?" Gasping for air, I started to swim but I was panicked and for about 10 lengths, I did breaststroke and backstroke, regained my composure, and swam freestyle for the remaining 10 lengths, exited the pool panting, and headed to my bike.
My sister was at the transition area cheering me on, taking my picture. I was wet, on the ground, struggling to put my shoes and socks on. I couldn't fasten my helmet. I'd practiced snapping the chin strap, but I kept fumbling.
On the bike course, my breathing was still heavy until I decided to enjoy the ride like my sister had coached minutes earlier. People kept passing me. "On your left," I'd hear. One woman kept saying it even as I was all the way to the shoulder, and I responded, "I AM on the left!" Not necessary. Not great bike etiquette.
Finishing with the slowest bike time in my age group, I dismounted and started my run. A 5K. I hate to run but I was going to do this. Mariah Carey was in my head singing "Make It Happen." The elastic in my sixteen-year-old shorts quit midway, and I realized they were starting to fall down. OMG. About a mile and one-half into my "jog," I started praying the rosary on my fingers. "Hail Mary…" (1) "Hail Mary…" (2) "…now and at the hour of my death…" (3) For sure, I was dying.
Then, the finish was in sight. I could do this. Coming across the timing mat, I heard the announcer say my name. A woman, a volunteer from The Church of the Latter Day Saints, was at the end of the race lane poised to remove the timing chip from my ankle. Her tee shirt read "Y'all Need Jesus" – the same tee my goddaughter gave me for Christmas. I laughed. I gasped for air. I saw my sister waiting for me, still cheering. I walked, filling my lungs with air. I grabbed a water, and then I got her hug. Stacie, my sister, saying she was so proud of me. I'd finished. I was ninth out of ten in the 60-64 year olds. 217th out of 235 finishers. I was slow, but I tried and it was over.
This past week, Denise said, "You should do one again." It's always a decision to try.