"You've got to care about the music…You'd better not be doing it for the publicity, the fame or the money. And you'd sure better not be doing it because it's a way to make a living, 'cause that ain't always going to be easy. You got to believe it, believe in the music. You got to mean it." – Waylon Jennings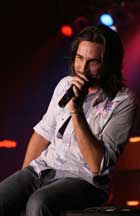 A framed copy of that quote hangs on the wall in Jake Owen's home in Nashville. It's served as a valuable piece of advice in the last few years as he's made the transition from a country newcomer with an infectious first single called "Yee Haw" to a bona fide star with a handful of hits under his belt and an ever-growing and loyal fan base.
Some young artists might buckle under the kind of pressure and distractions that come with country stardom, but Jake's sophomore album, Easy Does It, indicates he's taking Waylon's words to heart. There's a certain confidence and honesty evident in Jake's performances on all of the album's 10 tracks, eight of which he had a hand in writing. In short, Jake makes it all look, well, easy.
"My main goal with this album was to make music that's not overdone or over thought," Jake explains. "I just went in the studio and sang. I'd sing the song from start to finish a couple of times and then leave because there was no doubt in my mind that I'd done the best I could do. Whether it's perfect or not, it's who I am."
In the past three years, Jake's racked up plenty of reasons to believe in himself and the creative direction he is taking on Easy Does It. The journey began in 2006 with the release of his debut album on RCA Nashville, Startin' With Me. The insightful title cut from that project hit the country top ten, leading to Jake's first ACM nomination for Top New Male Vocalist. An out-of-left-field hit with Sugarland and Little Big Town on the tune "Life in a Northern Town" gave Jake's upward career momentum even more steam, garnering the Florida native his first CMA and Grammy nominations in 2008. With the new project, Jake builds on these successes, using his own life as the catalyst for his songwriting.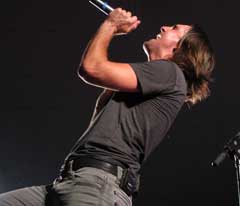 The first single from Easy Does It, "Don't Think I Can't Love You," is the perfect example of how Jake's personal experiences inspire his lyrics. Partly inspired by his father's devotion to his mother over the years, "Don't Think I Can't Love You" is just the first of several songs written specifically about romantic relationships. Though some of the love songs on Easy Does It, such as "Eight Second Ride," veer towards the rowdy side, Jake has a certain set of personal standards to uphold when addressing the fairer sex in song.
"It's really important for me when I'm writing songs that speak to women that I speak to them in a way of respect, first of all," says Jake. "And secondly, I try to write in a way where a guy listening would say, 'Man, I'd say that to a girl.' Hopefully that guy finds things that he wishes he could say, and he can use my music as the avenue for it. Conway Twitty did that. He sang songs to women all the time, but it was a very masculine way of saying it. It wasn't soft. I don't think any of my love songs on this record are soft."
The album's title cut and "Anything For You" also follow in that strong yet romantic vein, but Jake tackles a few more subjects on Easy Does It as well. The laid-back tune "Green Bananas" actually holds a valuable lesson Jake learned from a friend on the preciousness of time while "Every Reason I Go Back" explores the emotions of leaving home to discover a new life. As for the two songs Jake didn't write, the sexy, suggestive "Cherry on Top" and the stirring album closer "Nothin' Grows in Shadows" both made the cut because they fit Jake's criteria for choosing outside songs. Simply put, these tunes feel like they came from Jake's own pen.
"The only way to connect with that guy in the front row is to be honest about what I know, and sing about what I know," Jake says. "I think people get that with this album. When someone's truthful, people get it. But if someone doesn't believe what I'm singing, they're not going to connect with it because they'll have their guard up. There's no belief there. It's all about truth. In order for people to gravitate towards your music and buy into what you're saying, they have to know it's true. "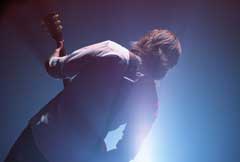 Of course, Jake couldn't connect with fans on a truthful level if he didn't know who he was as an artist, and Jake credits veteran producer Jimmy Ritchey with helping him discover his own musical identity in the studio. This working relationship has produced a rich environment for Jake to experiment with different styles of music, incorporating them into his own emerging sound. As a result, Easy Does It offers a slice of solid country music infused with a creativity that goes well beyond the regular paint-by-numbers radio fare. Whether it's the haunting bagpipe passage that closes the album on "Nothin' Grows in Shadows" or the mysterious, expansive musical build-up that leads in to the opening track "Tell Me," each song on Easy Does It contains a tip of the hat to Jake's musical heroes while also allowing him room to forge his own musical path in the here and now.
"There are people that are my heroes, like Waylon and Hank Williams Jr., that I definitely look up to, and they've set the benchmark for the kind of music I aspire to make. But at the same time, there's a reason that music is in that era, and there's a reason that I'm making music in this era. So, you have to be truthful to the current times while keeping the past in mind too."
Jake's also picked up a thing or two from touring with some of the biggest acts in country music. Landing coveted spots on shows with country's current kings of the road, including Kenny Chesney, Brad Paisley, Brooks & Dunn and Alan Jackson, has allowed Jake the opportunity to learn from the masters of the craft.
He says, "I think when I first got my deal and went on tour right off the bat with these superstars, I felt like I was in a dream world. When you tour with someone, they're putting their name out there and tagging you along with it. Because of this, I now feel like I'm accepted, whereas before I was wondering if things were going to work or not."
Things have obviously worked in Jake's career as evidenced by his successes on the road and on the country charts. As he builds on the solid foundation laid in the last three years, Jake is very sure of what he needs to do to extend his career well into the future.
"I just want my songs to relate to people," Jake explains. "Those kinds of songs are what drive a career. It's like that Waylon Jennings quote up there on my wall. I'm not doing this for the money. I'm not putting this album out in hopes that I'm going to get a bunch of money. It's not about that. It's about believing in what you do, and doing it because you love it. Making music is what I love to do."
Jake Owen will headline the Concert in the Park at the 55th Annual Beaufort Water Festival in downtown Beaufort. The show starts at 8 pm, opening with the Chuck Courtenay Band. Admission is $20. For more information, visit www.bftwaterfestival.com