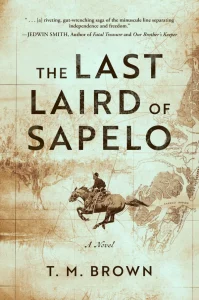 The nonprofit Pat Conroy Literary Center will host an evening with novelist T.M. Brown, author of The Last Laird of Sapelo, in conversation with Willie Morris Award-winning novelist Bren McClain, author of One Good Mama Bone.This free event will be held on Tuesday, September 12, at 5:00 p.m., at the Conroy Center (601 Bladen St.). Books will be available for sale and signing. Please register in advance at 843-379-7025.
About The Last Laird of Sapelo
"A heart-wrenching and beautiful story of a man and his family brought to its knees by the Civil War. . . . historical fiction at its finest." – Patti Callahan Henry, New York Times bestselling author of The Secret Book of Flora Lea
The Last Laird of Sapelo is based on the tragic story of Randolph Spalding, the youngest son of Georgia's most well-known antebellum-era coastal planter and influential political figure, Thomas Spalding. Following his father's death in 1851, Randolph parlays his father's fame and gifted landholdings on Sapelo Island, hobnobbing from Charleston to Savannah to Milledgeville and ultimately failing to thwart Georgia's decision to follow South Carolina into secession by early 1861.
Within weeks after the assault on Fort Sumter, Lincoln's naval blockade threatens the entire southern coast.
Colonel Randolph Spalding, now a reluctant commander of militia, faces a storm of life-altering events in the months that follow, imperiling his family's legacy, livelihood, and lands. He ultimately must decide between supposed justice and saving the life of a slave who exacted revenge for the murder and rape of two children on Sapelo Island.
Author T. M. Brown went back to school after a thirty-year sales and marketing career; his lifelong love for history, teaching, and coaching landed him in the classroom until he retired in 2014. He took up writing novels and has published four award-winning Southern novels. He is a member of the Atlanta Writers Club, Southeastern Writers Association, Broadleaf Writers Association, American Christian Fiction Writers, and founding president of Hometown Novel Writers Association, Inc., in Newnan, Georgia.
Learn more about the Pat Conroy Literary Center at https://patconroyliterarycenter.org.