The musical group celebrates its 20th Anniversary with CD release concert at the Arts Center of Coastal Carolina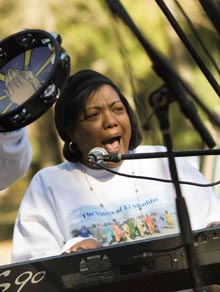 Performing traditional spirituals, contemporary gospel and original songs, the Voices of El Shaddai has touched audiences in festivals, events, churches and even weddings, from Brooklyn to the Gulf Coast of Florida since 1992.
For 20 years, The Voices of El Shaddai have been praising God together through song. The Lowcountry-based gospel choir recorded their second CD live at the Arts Center this spring and will return for a special concert to celebrate their 20th anniversary – and the CD's release – on August 8 at 8 p.m.
From the Hebrew for "God almighty," El Shaddai singers chose a name to highlight their purpose, giving voice to the life that inspired them and the role that fulfilled them.  Founder and long-time manager Gail Ragland said the group was organized for singers from churches throughout the Hilton Head Island and Bluffton area who "couldn't get enough on Sundays."  
The experience of their music is unique and characteristic of worship on the Sea Islands.  Coming to the Lowcountry from Aiken, SC, near Augusta, GA, in 1988, Ragland recognized immediately the melodies, harmonies and rhythm she found attending First African Baptist Church on Hilton Head Island.  "But
the sound of the words was different," she said.
Tracing its history 150 years, to August 19, 1862, First African Baptist had a real claim to authentic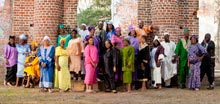 Lowcountry worship.  When Ragland began to work with a combined choir from Hilton Head Island and Bluffton, "I couldn't change that sound, and I stopped trying."  The characteristic Gullah vowel sounds flavor El Shaddai's music and make even well known songs their own.
Beginning with a combined Hilton Head Island and Bluffton chorus, the Voices of El Shaddai drew singers from churches throughout the area. More than half of the 27 members have been with the group from its inception. The richness of those roots shows up in their music and stays fresh, because El Shaddai singers continue each Sunday in their own home choirs.  They bring that life and diversity of experience to the Voices at every performance.
Ethnographers and music historians travel far and dig deep to discover what the Voices of El Shaddai share freely wherever they perform.  And beyond history and authenticity, their performances bring audiences to their feet and start them moving in the here and now.
For 20 years the Hilton Head Island/Bluffton area has been their home, and they consider every performance an occasion to "give back."  August 8 on the stage of the Elizabeth Wallace Theatre at the Arts Center of Coastal Carolina their performance will celebrate the life and joy they have found in carrying on an even longer musical legacy.
"Coming back to the Arts Center to release the CD that we recorded here a few months ago is so exciting," said Ragland, the choir's musical director and manager. "We're thrilled and overwhelmed with joy to have this opportunity."
Tickets are $26 for adults and $19 for children under 16 and can be purchased by calling 842-2787 or online at artshhi.com.