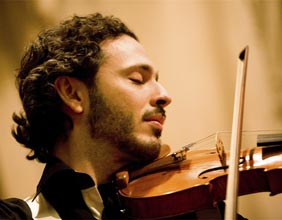 The music of two Baroque masters will fill the Center for the Arts on Sunday, December 14 when the USCB Festival Series brings the incredible talents of three of the world's finest and foremost string men to the stage to play Heinrich Biber's 1676 Passacaglia in G Minor for Solo violin and Bach's 1741 Goldberg Variations, BWV 988. Violinist Colin Jacobsen (above), "one of the most interesting figures on the classical music scene" (
Washington Post
) and recent winner of a prestigious United Artists Fellowship, will perform the Biber on his 1696 Joseph Guarneri filius Andreae violin. Violist Nicholas Cords (below) and his 2008 Samuel Zygmuntowicz viola and the Series host and resident cellist, Edward Arron will join Jacobsen for Bach.
            Biber is one of the most important composers for the violin in the history of the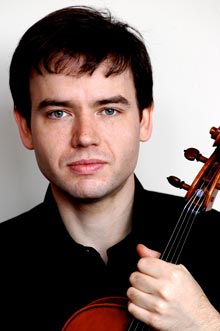 instrument.   His monumental Passacaglia from the Mystery Sonatas is one of the earliest solo pieces written for the violin. During Biber's lifetime, his music was known and imitated throughout Europe, and in the late 18th century, music historian Charles Burney named him the best violin composer of the 17th century. An excellent violinist himself, Biber created works of such technical intricacy that many violinists avoid the challenge they present. Fortunately for the Lowcountry audience, Jacobsen is more than up to the task.
           An Avery Fisher Career Grant-winning soloist and a touring member of Yo-Yo Ma's famed Silk Road Ensemble and a founding member of two game-changing, audience-expanding ensembles, the string quartet Brooklyn Rider and orchestra The Knights , Jacobsen was "born to the violin and its sweet, lyrical possibilities" (New York Times). He has collaborated with orchestras including the New York Philharmonic and San Francisco Symphony, and has premiered concertos by Kevin Beavers and Lisa Bielawa. He has performed with such prominent artists as Emanuel Ax, Joshua Bell, Steven Isserlis, Yo-Yo Ma, Christian Tetzlaff, Mitsuko Uchida, and composer Tan Dun.
            As a touring member of Yo-Yo Ma's venerated Silk Road Project since its founding, Jacobsen has participated in residencies and performances around the world. Highlights include performances in front of the world's largest wooden Buddha statue in Nara, Japan; as part of Lincoln Center's 50th anniversary celebrations; at the opening of the Shanghai Special Olympics; and at the Red Fort in Agra, India. He appears on all six of the Silk Road Ensemble's albums.
            The second part of the program promises to be soothing, but not sleep inducing, even though Bach wrote the Goldberg pieces as a sleeping potion. Legend has it that in 1741 a wealthy and powerful insomniac hired Bach to write a set of keyboard variations to calm him at bedtime. The count had already hired a 14-year-old harpsichordist, Johann Gottlieb Goldberg, to play him into a state of euphoria each evening. When the count heard the completed 30-Variation set, he said he "could not hear enough of them," and rewarded Bach with a golden goblet. And so Goldberg played, the Count slept, Bach sipped and the truly happy ending of this story is that the Variations and euphoric, wide-awake audiences have lived happily ever after.   Additional information about the artists and program and tickets are available at www.uscb.edu/festivalseries or 843-208-8246 M-F. The Center for the Arts on Carteret Street opens at 4, and the concert begins at 5, Sunday, December 14.