Maestro Fred Devytakin and The Beaufort Symphony Orchestra will present its annual Holiday Concert, 'Voices From Above' on December 4 and 7 at USCB Performing Arts Auditorium.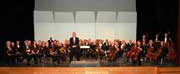 The program will feature the beautiful treble voices of Lowcountry Children's Chorus. The young singers will combine their talents with the orchestra to offer classical choral works as well as popular songs of the season.
New to this year's program will be several familiar songs and carols arranged by Chip Davis, well known to all who love the holiday music of Mannheim Steamroller! Also on the program are selections from Tchaikovsky's beloved 'Nutcracker Suite'. There is always a sing-a-long to get our audiences involved!
Lowcountry Children's Chorus is directed by its founder, Dr. Melanie Williams, and is in its eighth year of existence. They will be making their second appearance with the Beaufort Symphony, having shared the stage at the Holiday Concert in 2004.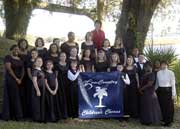 The thirty young singers of LCCC include both girls and boys from grades four through high school. Their season runs from September through May and they rehearse weekly at the Baptist Church of Beaufort.
The chorus has earned high praise for the beauty and purity of its sound. Their repertoire consists of choral music ranging from Renaissance to the contemporary in many different languages and ethnic styles. They have appeared often in Beaufort County, throughout our state, in North Carolina, Florida, and New York City.
Locally the young singers have participated in Homes for the Holidays, with the Hilton Head Orchestra and at Fripp Friends of Music.
In addition to leading Lowcountry Children's Chorus, Dr. Melanie Williams is the Minister of Music at the Baptist Church of Beaufort, where she directs both vocal and instrumental groups of all ages. She has frequently served as a clinician and adjudicator at music conferences throughout the United States.
An evening or an afternoon with the Beaufort Symphony Orchestra is a great gift to give yourself, your family, or a friend this season! Maestro Devyatkin has chosen music to warm your heart (even if we don't have snow, ice or frosty noses to contend with here in Beaufort!) Long after the holiday decorations have been packed away and the parties are a pleasant memory, you'll remember the beautiful sounds and the joy it brings to our community. Don't miss this music!!!
The Details:
December 4, Thursday Evening, 8:00 P.M. – $30
December 7, Sunday Matinee, 3:00 P.M. – $30
Youth through high school – $5
USCB Performing Arts Auditorium
801 Carteret Street, Beaufort

Tickets may be purchased on the Beaufort Orchestra's website at www.beaufortorchestra.org or by calling
Ticket Fusion's toll free number 1-877-548-3237
Remaining tickets at the door if available