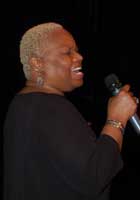 Internationally-known performer Marlena Smalls will lead Beaufort's Tricentennial Founders' Night kickoff Dec. 31 with "a musical tour through the history of Beaufort" in the Henry C. Chambers Waterfront Park.
The event runs from 4:30 to 6 p.m. and culminates with fireworks to set the stage for a yearlong celebration of Beaufort's 300
th
birthday. Beaufort was founded in 1711 by the English, although its beginnings date back to Spanish explorers in 1514. Beaufort was named for Englishman Henry Somerset, Duke of Beaufort (1684-1714), one of the Lords Proprietors of Carolina.
"We are featuring historically-significant periods in Beaufort's history through the spoken word and music, and we'll end the event with a huge fireworks show," said Erin Dean, chairwoman of the Beaufort Tricentennial Committee. "It's going to be an exciting way to start the 300th birthday party for Beaufort."
Founders' Night is a family-friendly event timed to encourage people to come to the Waterfront Park in the afternoon of New Year's Eve, with the fireworks ending by 6 p.m., giving people enough time to grab dinner before ushering in 2011.
"We have been working for over a year to find different ways to bring together this huge historical moment in Beaufort's history. Founders' Night is going to be a fun way to get it started with a bang," Beaufort Mayor Billy Keyserling said.
"The many festivals we have each year will find fun ways to showcase the Tricentennial during their activities, such as the Gullah Festival, Water Festival and Shrimp Festival," Keyserling said. "We are starting things with Founders' Night on Dec. 31, then we'll do a big birthday party in the Waterfront Park on the City's actual birthday on Jan. 17, and we are planning a historical parade for Sept. 17."
At Founders' Night, event producer Marlena Smalls will share her inspiring vocals with the help of the Hallelujah Singers. They'll be joined by the musician Charlie Frost from Sea Island Presbyterian, the Carteret Street United Methodist Church choir, Tabernacle Baptist choir, the five-piece band Simply Grand, vocalists and local actor Jeff Evans.
"We have a wonderful program planned that will include spirituals, we'll do Old Man River to show off the beauty of the Beaufort River and we're going to do a piece of the opera Porgy and Bess," Smalls said. "We are going to cover 300 years of Beaufort history, to include the wars, Emancipation, development of the Waterfront Park, all of it."
Early indications are that she'll close the show with the climactic American Trilogy made famous by Elvis Presley with its blend of Dixie, All My Trials and Battle Hymn of the Republic – after which the skies will boom and bloom with a huge fireworks show.
The Simply Grand band consists of Kenny Varner on keyboards, Trevor Daniels on drums, Greg Whitaker playing saxophone, Tony Royster on lead guitar and Larry Chaneyfield on bass. Additional vocals will be provided by Mike McFee, Margaret Evans, Marie R. Lewis, Bill Harvey, Charlie Frost and Rand Thacker.
Beaufort 300 continues to seek contributors. For a $300 investment in Beaufort's future, donors' names will be featured on a permanent historical monument in the Waterfront Park. Corporate sponsorships also are available. For more information, visit www.cityofbeaufort.org. Money raised by the venture will underwrite the historical monument of Beaufort's Tricentennial; corporate donations are needed to help cover costs of various Tricentennial celebrations during 2011, Dean said.