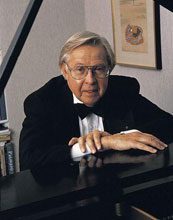 The term "chamber music" was coined during the Classical period but the concept of art music for a small, conductor-less ensemble, performed in intimate settings with one player on a part has been an aspect of western musical communication since ancient Greece. Enjoyed by all strata of society and performed by both amateur and professional groups, it has been described as "music among friends." USCB Chamber Music follows the concert model established during the 1800's: performances in an intimate setting with a small number of performers playing for an attentive audience. 
The hushed atmosphere is suggestive of interested observers eavesdropping on personal conversations. Guarneri Quartet first violinist Arnold Steinhardt expressed the powerful attraction of chamber music for the artists: "When a performance is in progress, all four of us together enter a zone of magic somewhere between our music stands and become a conduit, messenger, and missionary . . . It is an experience too personal to talk about . . ." Although audience members are one step removed from producing the sound, their presence increases the focus of the performers, and the listeners in turn become one with the music and enter into its voiceless dialogue. Throughout history, the chamber music magic zone has best been created by the synergy of exquisite compositions, exceptional musical instruments, skillful and communing artists, and focused and devoted listeners. Beaufort is the only small town in South Carolina to have a series dedicated to this magic, and the upcoming season, which kicks off in November, presents a grand opportunity to take advantage of living in "Beautiful Beaufort by the Bay."
From its founding in 1979 by USCB Art History Professor Mary Whisonant, USCB Chamber Music has presented internationally renowned artists such as pianists Jean Yves Thibaudet and Richard Goode, violinists Joshua Bell and Bobby McDuffy, flautist Paula Robison, cellist Carter Brey and the Emerson, Brooklyn Rider, St. Lawrence and Ehnes String Quartets.  For several of the early years, performances were held at area banks, churches and the MCAS theatre. In 1983 with the growth of membership and the opening of the USCB Center for the Arts, the venue was moved to the Arts Center. 
After Professor Whisonant's retirement, Adjunct Professor of Music Dr. Ralph Cooper successfully arranged the Series for several seasons. Then Harriet Keyserling prevailed upon the legendary Charles Wadsworth (above) to assume directorship and bring to Beaufort the chamber music riches he had unearthed for New York's Lincoln Center and Charleston's Spoleto. At that time Mr. Wadsworth had been entertaining audiences by providing informative and lively introductions of artists and compositions and his own inimitable style at the piano for over thirty years. A world-class raconteur as well as musician, he was a favorite with audiences across the US and in Europe. In fact, he has been credited by some with saving the art form of chamber music from extinction.  He established the Chamber Music Society of Lincoln Center fifty seasons ago, so they are celebrating their 50th as USCB celebrates its 40th.
Certainly during his two-decade tenure in Beaufort, he drew many new fans to USCB Chamber Music, and when he announced his retirement just as he was turning eighty in 2008, the Center for the Arts was standing room only.  It was a memorable and bittersweet evening with a very large cake, many candles, enthusiastic audience participation, the presentation of a personalized parking meter with lifetime free parking from Mayor Keyserling, Wadsworth's usual wit and most importantly wonderful music played by exceptional artists. At the end, the Master expressed his great appreciation for nineteen grand years and his feelings of regret on closing the curtain on fifty years of grand music, "It's very tough to say good-bye. I plan to cry a lot."
During his directorship, local audiences became accustomed to inventive programming and the very best young talent the world had to offer. For thirty years the quality of the music and the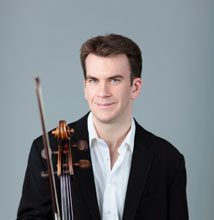 talents of the artists had surprised and delighted audiences throughout the Whisonant, Cooper and Wadsworth tenures, and they have continued to do so under the leadership of Edward Arron (right), the 2019-2020 series Artistic Director, host and cellist. Edward Arron spent two years assisting Mr. Wadsworth, getting to know the Lowcountry audience and allowing the audience to enjoy his artistry and his thoughtful commentary and to appreciate his connectivity to the most significant young artists playing and composing chamber music at this time. As one of those significant young artists himself and as the Artistic Director for the Metropolitan Museum's Artists in Concert Series for a decade and a member of the Ehnes Quartet, he is uniquely qualified to ensure the continued standard of USCB Chamber Music. His eleven seasons as Artistic Director have seen the series grow in esteem and ticket sales.
People have long been attracted to the Lowcountry by the scenic views, the beaches, the golf, and the fishing; but for the last forty years, the really lucky ones have also discovered Bach, Brahms and Beethoven nestled in the bulrushes. Considering that the series began when USCB was a poorly funded, two-year branch campus of USC, and Professor Whisonant was not only the artistic director, but also the ticket seller, airport taxi, caterer and donor seeker and that there was a time when cutting back on Mr. Wadsworth's concerts in favor of other forms of musical performances was threatening the continuation of the series as we know it, we can all be proud that this community still has music and artists coming five times each year that make us the cultural envy of much larger, much wealthier, and much less fortunate towns and cities. Be a lucky one and join in the celebration on Sunday, November 3rd at USCB's Center for the Arts on Carteret Street. Doors open at 4, and the concert begins at 5 pm. For a complete concert schedule or to purchase advance tickets, visit us at www.uscb.edu/chambermusic or call 843-208-8246 M-F 9-5.