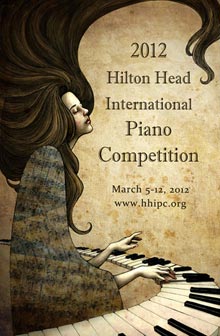 The 17th Hilton Head International Piano Competition, presented by the Hilton Head Symphony Orchestra, will be held at the First Presbyterian Church on Hilton Head Island, March 5 – 12, 2012.
Twenty competitors from 6 countries will be performing in four rounds of competition. Round I, on Monday and Tuesday, March 5 and 6, will be held from 1:30 to 4:40pm and 7:00 to 9:10pm. Round II, on Thursday and Friday, March 8 March 9 will be held from 10:00 to 1:05pm and 2:30 to 5:35pm. Six Semifinalists will compete in Round III on Saturday, March 10 from 1:30 to 5:20 pm and 7:30 to 9:15 pm.
Three finalists will perform a concerto with the Hilton Head Symphony Orchestra in the Round IV Finals on Monday evening, March 12, at 7:00pm.   Competitors vie for cash prizes totaling $35,000 plus engagements, including a return engagement with the Hilton Head Symphony Orchestra. Monday's Finals are reserved seating only, call the box office for tickets
On Monday, March 12, the day of the Finals, the Competition will also present Master Classes, as well as a Lecture/Recital given by Arie Vardi, of Israel, the 2012 Jury Chairman, entitled "Haydn Sonata No. 59- A secret love letter?". The Master Classes are held in two sessions: (1) 9:00 – 11:25am and (2) 1:45 – 4:10pm. The Lecture/Recital will be given from 12:30 to 1:30pm. Both Master Classes and the Lecture/Recital are free and open to the public and are held at All Saints Episcopal Church, 3001 Meeting Street, HHI. Spend the day at All Saints and enjoy lunch between sessions. Lunch tickets are $12 if purchased before 5:30pm on Saturday, March 10, or $15 at the door.
Featured on all 2012 HHIPC materials is the artwork by Julia Yellow, winner of the SCAD 2012 Cover Art Competition. It is one of 37 entries created by the Savannah College of Art and Design students for the HHIPC.
All tickets may be purchased online at www.hhipc.org, by calling the Competition box office at 1-843-842-2055, or at the Competition. For more information about the 17th HHIPC, March 5 – 12, 2010, visit the Competition website at www.hhipc.org.