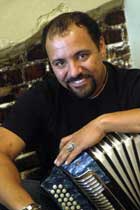 Get ready for a Lousiana-flavored party with a concert by the nationally reknown group Terrance Simien and the Zydeco Experience.
Simien brings his upbeat slice of Cajun groove to the Arts Center of Coastal Carolina on March 15. Children's tickets are available for this family friendly concert.
An eighth generation Creole, Simien has been performing the indigenous music of Louisiana for more than 25 years, winning countless awards and accolades, including Offbeat's 2007 Best of the Beat Award and a 2008 Grammy for his latest album, "Live! Worldwide."
"It's a real thrill to be able to bringing an artist of Terrance's caliber to the Arts Center," said president and CEO Kathleen Bateson. "I think zydeco music is more popular now than ever. A lot of the credit for that has to go to Terrance."
Zydeco, an African word meaning "to dance," is the music of the multi-racial, multi-cultural, French-speaking Creoles of southwest Louisiana. It features two core instruments: the accordion and the frottoir, or rubboard. It has evolved over the years and become a fusion of many different styles and musical influences. The one constant has been the change.
At the Arts Center concert, Simien will play a combination of original music, Caribbean-influenced songs, traditional waltzes sung in French and a few covers.
"There will be songs that will make you get up and dance and others that you can sit back and listen to," Simien said. "We're mixing it up so the audience will get a good feel for zydeco music."
His music was featured in Walt Disney Pictures' "The Princess and the Frog." Simien also appeared in the film and soundtrack of "The Big Easy" starring Dennis Quaid. Over the years, he has recorded and performed with major artists, including Robert Palmer, Stevie Wonder, Los Lobos, Paul Simon and the Dave Matthews Band.
Universally acclaimed as one of the most exciting zydeco performers in America, Simien infuses the root music with contemporary influences. The Los Angeles Times hailed, "Simien's soulful vocals could hold their own against Aaron Neville." While Rolling Stone called Simien a "Zydeco master," adding: "His voice yearning like Sam Cooke, he delivers soul worthy of Stax greats and shows crossover class."
"I feel like I have done my part," Simien said. "I didn't set out to change the music; I just play what inspires me and what comes from my heart."
Tickets for the show are $36 for adults and $26 for children and can be purchased by visiting www.artshhi.com or calling 843-842-ARTS.
The Arts Center of Coastal Carolina is a non-profit performing arts organization. In addition to a 349-seat, main-stage theater that hosts an annual theater and performing arts series, the organization oversees two art galleries and regional arts educational programs, as well as produces four community outreach festivals. The Arts Center received the 2006 Elizabeth O'Neill Verner Award for top arts organization in South Carolina.