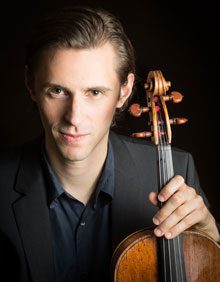 The music on the Sunday, March 17, 5 pm USCB Chamber Music Concert follows an arc that stretches from relaxation, through darkness, amiability, intensity, virtuosity, passion and brilliance. Four performers, in four different ensemble combinations, will bring a rich slice of compelling chamber music to life.
The concert begins with Silent Woods, an evocative character piece by Antonín Dvořák for cello and piano. Its tender, unhurried mood focuses on a scene from southwestern Bohemia, where the composer had a beloved country home. Rebecca Clarke, born to a German mother and American father, was a virtuoso violist and composer who was raised in England and ended up in the US. She is considered to be one of the most accomplished English composers of the 1920s-30s. Clarke's deeply-felt Dumka: Duo Concertante, evokes the Dumka aura cultivated by Dvořák: a work of mournful character with sudden changes from sadness to exhuberance. Unusually scored for violin, the darker-hued viola, and piano, this work includes sections of raucous dance music before ending in bleak resignation. Warm feeling returns with the String Trio, D. 581 of Franz Schubert for violin, viola, and cello, a multi-movement work of restrained elegance, tuneful melody, clear phrasing, and well- mannered declamation. The concert concludes with Gabriel Fauré's Piano Quartet in C minor, Opus 15, a miraculous example of passion encased within a framework of classical balance and purity of line. Composed during a period of personal loss due to a failed engagement, Fauré held his emotions in check but submerged anxiety can be felt in the quartet's restless drive and bubbling veneer. The inner dialogue between intense emotion and elegant declamation combine to make this generally upbeat quartet irresistible.
The performers are all returning USCB Chamber Music veterans. Pianist Phillip Bush holds the rank of Associate Professor of Piano and Chamber Music at the University of South Carolina and
continues to concertize around the globe. A musician with an extraordinarily curious mind and wide breadth of musical interests, his repertoire spans the last five centuries, with a special affinity for the music of our time. Award-winning violinist Aaron Boyd (right), a member of the acclaimed Escher String Quartet, is the Director of Chamber Music and Professor of Violin at the Southern Methodist University Meadows School of the Arts. Boyd enjoys an international career as a soloist, chamber musician, orchestral leader, recording artist, lecturer and teacher. Since making his New York recital debut in 1998, he has given concerts throughout the United States, Europe, Russia and Asia. Belgian- American violist Dimitri Murrath (top left) has made his mark as a soloist on the international scene. A 2014 recipient of an Avery Fisher Career Grant, he is also a multiple competition winner. The New York Times has praised his artistry: "the warm and noble tone of Mr. Murrath's viola glowed fiercely… the highlight of the concert." Edward Arron, Artistic Director for the past ten seasons, returns with his burnished, resonant cello tone. Musically underpinning the ensemble from the bottom and artistically leading from the top, Ed has become a Lowcountry fixture and welcome guest. His superb musicianship, personal warmth, extensive knowledge of repertoire, and insight into the art of how to build a concert program are appreciated by audiences throughout the country.
Support the Arts! This program runs the gamut from gentle to fierce, disconsolate to ecstatic. Celebrate the arrival of spring with the warmth and life-renewing conversation of chamber music. Concert information and tickets, as well as information about the newly launched Endowment, are available on www.uscb.edu/chambermusic or at 843-208-8246, Monday through Friday. The USCB Center for the Arts, located at 801 Carteret Street, opens at 4 pm on the day of the concert, Sunday, March 17.