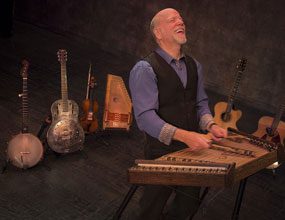 "Calling John McCutcheon a 'folksinger' is like saying Deion Sanders is just a football player." To really appreciate this compliment by the Dallas Morning News, you should ask a football fan about Deion's many varied accomplishments, and you should come to Fripp Island on March 24 to let John McCutcheon, folk music's "Rustic Renaissance Man," dazzle you with his many talents, from writing songs, singing, playing a dozen instruments to telling stories.
Yes, John is an accomplished storyteller, too, working currently with literary giants like fiction writers Barbara Kingsolver and Lee Smith and poet Rita Dove on a "written-word-put-to-music" project, i.e., writing songs together. But John's claim to fame is primarily as a musician. 
As a youngster in Wisconsin, so John confessed, he fought a lopsided battle between being a mediocre pianist and an all-star catcher until he "found his voice" thanks to a cheap, mail-order guitar and a used book of chords. And he never looked back, not even after graduating summa-cum-laude from Minnesota's St. John's University. He continued on his path to becoming "one of the best musicians in the USA," according to Pete Seeger—a friend who should know. Johnny Cash chimed in with this assessment: "The most impressive instrumentalist I've ever heard." An impressive instrumentalist, indeed. I did not exaggerate when I said John plays a dozen different instruments. He is the master of the rare hammered dulcimer. Have you ever heard a hammered dulcimer, that weird percussion instrument with strings stretched over a trapezoidal sound board? Or the lovely autoharp, a hand-held, chorded kin to the zither? Or the jaw harp, often called a Jew's harp? Yet another weird instrument consisting of a flexible reed attached to a frame. The performer places the frame between his teeth while plucking the reed with the forefinger. And John plays the guitar, banjo, mountain dulcimer, and fiddle. You come to Fripp and find out what else. 
Aside from playing some of these instruments, John might sing material by Pete Seeger and Woody Guthrie, from whom, by the way, he professed to have received the best advice ever: "Take it easy, but take it." And, of course, John will sing songs of his own making, and he has created hundreds, most of them recorded on forty albums published since the 70s, yielding seven Grammy nominations. All reveal a profound love of place, family, community, and strength; qualities he adopted during his apprenticeship in the hills of Appalachia, when, around age twenty, he was developing his musical skill sets; qualities that inform his story-telling style, not unlike that of Will Rogers and Garrison Keillor. Be prepared to listen to John tackle even current affairs with humor, bite and wisdom. Wisdom like he demonstrated when answering questions such as what the most overrated virtue is: "Obedience… the blind kind." Or whom he admires: "People who never give up."
John is a whirlwind of energy. In the past few years alone he has headlined over a dozen different festivals in North America, recorded an original composition for Virginia Public Television involving over 500 musicians, gave a special concert in the National Baseball Hall of Fame, toured Australia six times, performed in Chile in support of a women's health initiative… on and on. Look up his résumé, you'll be impressed. 
John McCutcheon will perform on Sunday, March 24, at 5 pm pm in the Fripp Community Centre, 205 Tarpon Boulevard. This remarkable concert is sponsored by Fripp Island Friends of Music and supported by the SC Arts Commission. Attendees get a free pass at the Fripp gate. Tickets at the door only: adults $25 (cash or check), students free thanks to the Peg Gorham Memorial Fund. You are invited to join John at a complimentary catered reception after the performance.  www.frippfriendsofmusic.com or call 843-838-1777.
And let's not forget: John will teach and perform at a local school on Monday, following his show on Fripp. Thank you, John.