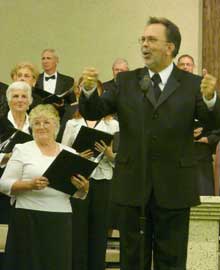 Looking for something to lift your spirits? How about a night filled with "feel-good" music. Tickets are now on sale for the Hilton Head Choral Society's Songs of Faith and Inspiration concert 8 p.m. Friday, Oct. 26 Holy Family Catholic Church, 24 Pope Ave., Hilton Head Island.
The HHCS was founded in 1975 to perform Handel's 'Messiah.' Since that first performance, the Choral Society has expanded its membership and repertoire. The performers will take audience members on an inspirational journey with selections from the pop charts, the hymnal and patriotic folk music during the upcoming performance. The HHCS Artistic Director Tim Reynolds says this concert will embody the power of music.
"This concert celebrates the joy of bringing together a wide variety of singers from our community to share in an evening of fun and uplifting music making," Reynolds says. "It is our goal for everyone who comes to leave in a better mood with a more positive outlook than when they arrived."
This season's theme of "all the sounds of the earth are like music" truly reflects Reynolds' philosophy of life. The theme echoes the idea that people can be united by their love of music and this performance will be living proof of that.
The Songs of Faith and Inspiration concert blends together the voices of the chorus with members of singing groups such as the Hilton Head Shore Notes and local church choirs from St. Andrew By-The-Sea United Methodist Church, First Presbyterian Church, Bluffton United Methodist Church, St. Gregory the Great Catholic Church, Lord of Life Lutheran, Holy Family Catholic Church, Temple Beth Yam, Unitarian Universalist Congregation of the Low Country and All Saints Episcopal Church.
In his 12 years as artistic director, Reynolds has taken the Hilton Head Choral Society to new heights and venues, and this show continues to stretch the society's boundaries and appeal. Society members say Reynolds strives to offer "something for everyone."
According to Bo Pearson, HHCS member, this concert is packed with "feel-good stuff."
"Some of it is comforting and soothing, some of it uplifting, and some of it really rocks," Pearson says.
The singers and orchestra will perform familiar selections "Lullaby" by Billy Joel, "He Ain't Heavy, He's My Brother," made famous by The Hollies with Elton John on piano and "This Land is Your Land." Audience members can treat their ears to rockin', gospel numbers including 
"He Never Failed Me Yet," and a medley of "I'll Fly Away," "We'll Understand it Better By and By," and "The Saints Go Marchin' In" among others. The ensemble will also perform "Ose Shalom," a hauntingly beautiful setting of the Hebrew text "The One who Makes Peace."
Concert tickets are $25 for preferred seating (available online only) and $20 for general admission. Tickets may be ordered online at www.hiltonheadchoralsociety.org or purchased at these local businesses: Burke's Main Street Pharmacy, Hilton Head Plantation, Hilton Head Island, Pretty Papers & Gifts, Wexford Plaza, Hilton Head Island , Christie's Hallmark, Festival Centre, Hilton Head Island, Christie's Hallmark, Belfair Town Plaza, Bluffton, Markel's Gifts, Kitties Crossing, Bluffton Tickets will also be available at the door the night of the concert. For more details, call 843-341-3818.