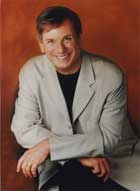 Mac Frampton brings his unique spin on classical music to the Arts Center.
Billboard Magazine hailed Mac Frampton as "an immensely talented pianist, at home in a wide variety of musical settings." Now Frampton is bringing that "immense talent" to the Arts Center of Coastal Carolina.
The renowned pianist, a South Carolina native who has performed more than 3,000 concerts worldwide in 30 years as an entertainer, brings his unique take on the classics to Hilton Head at 8 p.m. March 20 with a performance of his show "Pop! Go the Classics."
The concert is billed as "classical music with a twist of pop." Accompanied by ThreePenny Symphony – a six-piece ensemble – Frampton merges his conservatory training with his mastery of pop and jazz to bring a fresh and original take on several revered classical works.
"I have constantly made a practice of including at least one, and usually more, pieces in my show that were borrowed directly from the classics," Frampton said about the inspiration for "Pop!". "Usually, I would take a well-known classical work and simply give it some sort of a 'groove.' "
Even early in his career, playing for college audiences, Frampton strived to introduce the classics to a new audience in a way that wasn't "threatening." "Pop! Go the Classics" was born from that desire.
The show features several jazz-y and modern interpretations of classics – think Bach performed as if he were alive and well in Greenwich Village – such as "Flight of the Bumblebee," Strauss' "The Blue Danube," Beethoven's "Moonlight Sonata," "Bolero," Gershwin's "Porgy & Bess" and, Frampton's personal favorite, Bach's "Air on a G String."
"Cecil Welch, our solo trumpeter, is a virtuoso who brings his 20 years of performing worldwide with Henry Mancini to our show," Frampton said. "His interpretation of 'Air' is just beyond beautiful."
Born the son of a Presbyterian minister, Frampton had lots of chances to test the piano playing waters: entertaining for church suppers, subbing for Sunday services, improvising "Here Comes The Bride" for a home wedding and playing the Sunday School hymns on creaky old uprights.
Frampton studied music at Erskine College in South Carolina and at the Cincinnati Conservatory. Recognition with a special medal in the Van Cliburn International Piano Competition followed, establishing him as a classical pianist with legitimate credentials.
It was at the Cliburn Competition that Frampton began to seriously consider an alternative to a classical career.
"I was at a farewell reception, and some of the contestants who knew I improvised pop and jazz asked me to play a few tunes," he said. "I had just started when Van Cliburn himself walked in. He told me he was impressed with my arrangements and that I should consider doing them professionally.
"I went home and started booking myself with a backup group and found I really loved it."
Frampton has been a guest soloist with such orchestras as the Boston Pops, Mantovani, Cincinnati, Atlanta and St. Louis. Merv Griffin called him "Dynamite!" He's shared the stage with the likes of Bill Cosby, Glen Campbell, The Fifth Dimension and Victor Borge, and the Atlanta Constitution said of his show: "How one man can bring the rafters down in Symphony Hall as if a full orchestra were playing is a feat in itself. It's consummate musicianship. Electrifying!"
"I can't recall a time in my life when I didn't know exactly what I wanted to do," said Frampton.
Tickets for Mac Frampton are $49 for adults and $39 for kids and are available online at www.artshhi.com or by calling the box office at 843-842-ARTS.