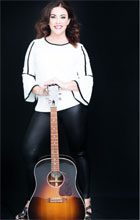 Katie Lynn Godowns is a resident here in Beaufort County. She works full time for Beaufort County and is married to her childhood next door neighbor, Andrew Godowns. Katie and Andrew have two beautiful children together. Katie has always sung in church, but it wasn't until after high school that she really pursued singing. Before Katie graduated from Battery Creek High School in 2006, she auditioned for Charleston Southern University's Gospel Ensemble " New Visions." Katie was awarded a 4 year scholarship to sing for them.
It has been a lifelong dream of Katie's to record her own CD. After much time and prayer, Katie and her family took a leap of faith and set out to record.
On October 5th, Katie is having a CD Release Show that will benefit a local non-profit.
She has decided to use her show not only to debut her album Movin' Mountains, but to help raise money for The Kiwanis Club of Beaufort's Scholarship Fund.  By purchasing a ticket you are not only supporting Katie's dream, but also the dream of others.
The Show is being presented by Martin Landscape, INC and will take place at 7:30pm at the USCB Center for the Arts, 805 Carteret Street, Beaufort, SC 29902. Tickets are $15 for Children and $25 for Adults and can be purchased at www.uscbcenterforthearts.com or by calling or visiting the box office at 843-521-4145. CD's will also be for sale.