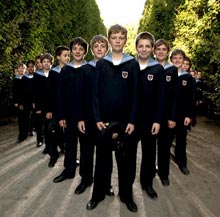 The "Hilton Head Choral Society Presents" series will host the iconic Vienna Boys' Choir for a single performance on Saturday, March 17, 8 p.m. at Holy Family Catholic Church on Hilton Head Island.
The HIlton Head Island performance represents a unique opportunity to hear music collected from around the world and presented by choristers between the ages of ten and fourteen. The choir's repertoire includes everything from medieval to contemporary and experimental music. The core of the touring repertoire includes the choirs' own arrangements of quintessentially Viennese music, waltzes and polkas by Strauss, Lanner, and Lehar.
Bo Pearson, of the Hilton Head Choral Society says that early ticket sales are brisk and many orders are coming in from out of town. "This is rare opportunity and people will travel quite a distance to attend a performance of the famed boys' choir. We expect a full house, so please get tickets early," explained Pearson.
The storied groups last performed on Hilton Head Island six years ago to a standing room only crowd. "The clarity of sound, diversity of repertoire, and their overall musical excellence make the Vienna Boys' Choir a real treat for us to enjoy. I am looking forward to this very special choral performance," explained Tim Reynolds, Director of the HIlton Head Choral Society.
The Vienna Boys Choir began performing for Emperor Maximilian, King of the Roman Empire and his imperial court in Vienna, Austria in 1498. Today, around 100 boys travel the world in four touring choirs. They give about 300 performances a year to nearly half a million people. They visit nearly all European countries and are guests in Asia, Australia and the Americas. Together with members of the Vienna Philharmonic Orchestra and the Vienna State Opera Chorus, the Vienna Boys Choir maintains the tradition of the imperial musicians as they provide the music for the Sunday Mass in Vienna's Imperial Chapel, as they have done since 1498.
The Hilton Head Choral Society season will continue with "The Magic of Mozart" which will take place on March 30, 2012, 8:00 p.m. at First Presbyterian Church on Hilton Head Island. The concert will feature an evening of classical favorites by the young genius composer, performed by nearly 100 choir members, full orchestra and featured soloists.
Individual performance tickets as well as Chorus Concert Packages can be purchased on-line at hiltonheadchoralsociety.org