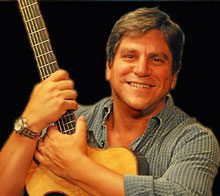 Americana singer-songwriter Josh Joffen will perform at Music on Malphrus, 110 Malphrus Road, in Bluffton, SC, Saturday, October 26, at 7:00 pm. General Admission is $20. Doors open at 6:00 pm.
Josh is a songwriter, singer and guitarist who has performed all over the USA and in Europe. A native New Yorker, he came out of the Greenwich Village folk scene and has gone on to perform in coffeehouses, house concerts, clubs and festivals around the country.  
Funny, romantic, rousing and thoughtful, his songs and his singing draw frequent comparisons to James Taylor, Gordon Lightfoot, Jimmy Buffett and Jackson Browne.
Josh is a two-time winner of the Kerrville Folk Festival's prestigious "New Songs" songwriter competition, and a winner of the Great American Song contest.  In addition to public performances, he's performed in the United Nations and in private concerts for mayors of New York City.
Josh moved to Bluffton last year. "We love it here," he says. "We've never been surrounded by so much natural beauty. Just being outside makes me draw a deep breath and smile."
His shows take audiences on a journey of the imagination and of the heart.  As Arlene Boumel, of the South Florida Folk Festival, says: "Josh weaves melody around rich lyrical poetry, binds it together with expressive guitar, adds smooth soothing vocals, and serves it all up to us with a warm smile. He doesn't just sing; he reaches out and embraces his audience, pulling them into his magical world. It doesn't get much better than this."