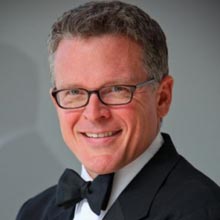 John Morris Russell, one of North America's most celebrated orchestral conductors, has agreed to take up the baton as "Principal Guest Conductor" for the Hilton Head Symphony Orchestra (HHSO) for the 2011-2012 season, which gets underway in October.
"We are thrilled for this once in a lifetime opportunity to have a major international talent like Maestro Russell come to our community," said Edward Parrish, chairman of the orchestra board. "When we learned of his interest in leading our orchestra we realized it would mark a major step forward for the presentation of great music in our community."
Russell has won international praise for his extraordinary music-making and his visionary leadership, while overseeing a variety of outreach music programs for the communities and area schools where he has performed.  In fact, he has been cited as one of North America's leaders in educational programming, directing the educational series "LinkUP!" at New York's Carnegie Hall for 12 years, a continuation of one made famous by Leonard Bernstein.
For the past 10 years Russell has served as Music Director of the Windsor (Ontario, Canada) Symphony Orchestra where he is credited for "having fostered a decade of unprecedented artistic growth" in that region. During his tenure the Windsor Symphony Orchestra made 17 national broadcasts on Canadian Broadcasting Radio including concerts from the Masterworks and Intimate Classics series.
Most recently Russell was named Conductor Designate of the renowned Cincinnati Pops Orchestra and begins his tenure there as Conductor in September.  In addition to a previous position in Cincinnati as Associate Conductor for the Cincinnati Symphony Orchestra (11 years), Russell also served as Associate Conductor for the Savannah Symphony Orchestra and director of the Orchestral Program at Vanderbilt University.
As a guest conductor Russell has led many of North America's most distinguished ensembles, including the orchestras of Toronto, Houston, Detroit, Indianapolis, Dallas and Minnesota. He has also conducted for the Oregon Symphony, the Colorado Symphony, the New York City Ballet, the New York Philharmonic, Miami's New World Symphony and the Los Angeles Philharmonic at the Hollywood Bowl.
Mary Briggs, Executive Director for HHSO, said John has agreed to conduct four concerts during the upcoming season as well as the March 2012 International Piano Competition and the April 2012 "Symphony Under the Stars" – a total of six concerts, and we are hopeful that it will be a productive time that will allow our patrons and musicians to see if this will turn into a positive on-going relationship."
While serving as Associate Conductor of the Savannah Symphony Orchestra in the mid-1990s Russell, an Ohio native, met his wife Thea (pronounced Tay-ya) – a Georgia native and a professional in the field of historic preservation. They have two children — Jack,11, and Alma, 9.
"I am excited to be returning to Hilton Head Island and the Lowcountry. It is one of the most naturally beautiful and inspiring regions in the world," said Russell. "I know many of the exceptional musicians in the area and I am looking forward to building upon the world class traditions of the International Piano Competition and creating symphonic concerts of extraordinary quality."
Briggs said the reason for the announcement at this point in time is to allow Russell to provide creative direction (which typically begins in March) for the 2011-2012. She said that in addition to Russell's six concerts the Hilton Head Symphony Orchestra will have individual guest conductors for each of the other five concerts.  She additionally noted that the orchestra's budget would not be increasing.