A Jazz Concert featuring Marlena Smalls at USCB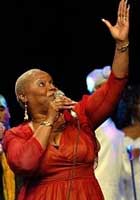 Legendary vocalist Marlena Smalls and the Lavon Stevens Band will be performing at USCB Center for the Arts on February 26 at 8 PM and February 27 at 5 PM. Ms. Small's voice will take you on a musical journey celebrating Jazz and blues greatest performers such as: Sarah Vaugh, Etta James, and Big Mama Thorton. Another Lowcountry favorite, Vic Varner and Friends, will be opening the show. They will feature a Bossa Nova set with some early swing thrown in.
Marlena Smalls founded The Hallelujah Singers in 1990 to preserve the Gullah culture of the South Carolina Sea Islands. She is a sacred music vocalist, also singing gospel, contemporary, jazz and blues. Her programs for schools, reunion and meeting groups incorporate lecture, music and Gullah storytelling. Inducted into the South Carolina Black Hall of Fame in 2004, Marlena has performed for the Queen of England and many U. S. and international dignitaries. She has worked with film producer Joel Silver and Academy Award winners Tom Hanks, Demi Moore and Glenn Close. In addition to many productions for PBS, SCETV and GPTC, she is known to international audiences as Bubba's mom in the Academy Award winning motion picture Forrest Gump. Recently, Marlena Smalls and the Hallelujah Singers recently performed at the Smithsonian National Museum of African Art in Washington, DC. Their CD Juba is now sold in the Smithsonian gift shop.
When he is not directing the award winning BHS Voices, or the USCB's University Chorus, Vic Varner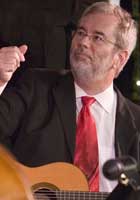 performs solo, duo and with his quartet as a singer and guitarist. Varner's style has been described as one of "calm elegance" as he crafts jazz and blues with his acoustic guitar and resonant baritone. His warm timbre and inventive phrasing transports the audience through diverse repertoire including A.C. Jobim, Nat Cole, the Mills Brothers, etc.
"Jazz Notes" is part of a series of performances to raise funding to bring national, regional and international performing artists to the Center for the Arts. Performances such as: the Columbia City Ballet's Nutcracker, Golden Dragon Acrobats, Beatle Mania- tribute band, and much more.
Tickets are on sale now! Call the USCB Center for the Arts Box office at 0843) 521-4145 to reserve your today. Adults $22, Seniors/ Military $18 and Students $15. All Seats $25 the day of the show. Special Reserved Seats, Wine and Desserts with the Artists -Saturday Evening only $30!
ABOUT USCB:
The University of South Carolina Beaufort (USCB) is a senior institution of the University of South Carolina system serving the southeast coast of Georgia and South Carolina. The university's two campuses, located on the waterfront in historic Beaufort, S.C. and at the gateway to Hilton Head Island in Bluffton, S.C., serve a diverse student body of 1,700. USCB offers students an exceptional place to learn and live in an environment focused on growth, preservation and opportunity. For more information about the University of South Carolina Beaufort and its arts programs, please visit www.uscb.edu or call the Office of Advancement at 843-208-8240.