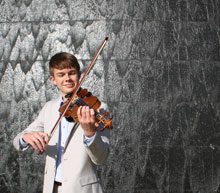 This fall, the Beaufort Symphony Orchestra kicks off its season with Classical Genius, a concert featuring works by Mozart, Mendelssohn and Haydn, and guest violinist Sam Parrini (left).
A native of South Carolina, Parrini is a violin prodigy who began playing at age four. Today, the 18-year-old has an impressive list of musical accomplishments, including many Fine Arts scholarships and awards.
In 2016, he won the Clemson Concerto Competition, performing the first movement of Camille Saint-Saens' Concerto in b minor. During 2016, Sam also won the Stillman Kelley Award for the Southeastern Region of the U.S. He also shared first place in the College of Charleston's Young Artists Strings Competition, and performed in the Piccolo Spoleto Festival in Charleston.
In 2017, he was the Southern Regional winner of the Music Teachers National Association (MTNA) Senior Strings Division. Most recently, Sam was invited to be a member of the National Youth Orchestra of the United States of America (NYO-USA).
The 2018 season includes a concert at Carnegie Hall, followed by an Asian tour with performances in Taipei, Shanghai, Beijing, Seoul, and Daejeon.
Sam Parrini and the Beaufort Symphony Orchestra will perform Mozart's Don Giovanni Overture, Mendelssohn's Violin Concerto in E Minor, and Haydn's Symphony in D (No. 101 "The Clock).
The concert takes place Thursday, October 11 at 7:30 pm and Sunday, October 14 at 4 pm at Sea Island Presbyterian Church on Lady's Island Drive. Tickets are $40, $15 for students.