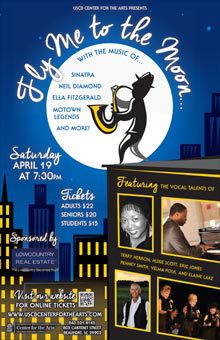 Everything Sinatra and more will hit the USCB Center for the Arts stage when producer Terry Herron, who brought "Moon River," the Johnny Mercer tribute to Beaufort last year, brings the Swing and Jazz inspired production, "Fly Me to the Moon," to Beaufort on April 19.
Herron performs Sinatra favorites
Joining Herron on stage will be Savannah's first lady of gospel and jazz, Huxsie Scott, Beaufort's own Sweetgrass Angels, and Savannah Jazz Orchestra pianist and musical director, Eric Jones. Herron will perform a number of Sinatra favorites, including "That's Life," "My Way" "I've Got You Under My Skin," and "Witchcraft." "No one has ever matched Ol' Blue Eyes' swagger and commanding stage presence – he will always be 'The Chairman,' " says Herron, "but I've been singing Sinatra since I was 11 years old and I think I can bring back some great memories for our audience." Other singing legends represented in the musical selections include Ella Fitzgerald, Etta James, The Supremes, Judy Garland, Neil Diamond, James Taylor and several Motown favorites.
Huxsie Scott channels Etta and Ella
Huxsie Scott never fails to captivate her audiences with her unique style, and when she turns it on full force with songs like "Blues in the Night," "Midnight Train to Georgia," and "Amazing Grace," "No one ever thinks about an intermission," says Herron. "And when she channels Etta and Ella, she's just amazing!" Scott has been a prominent fixture in her native Savannah's jazz, blues and gospel music life for many years and has performed with several of the areas premier jazz ensembles and symphony orchestras. She was the original vocalist for Savannah Jazz Orchestra and a featured opener for jazz greats Lionel Hampton and McCoy Tyner and is currently performing in "Jukebox Journey" at the historic Savannah Theatre.
Sweetgrass Angels keep it together
Beaufort's Sweetgrass Angels are, according to Herron, "the glue holding the entire show together." The trio of Penney Lynn Smith, Velma Polk and Elaine Lake will perform a variety of their Motown favorites, some country & western and pop music, as well as provide backup support for Scott and Herron. Audiences will remember their hit shows, "Honky Tonk Angels" in 2012, and "Honky Tonk Angels Holiday Spectacular!" last Christmas at USCB Center for the Arts. The three met while auditioning for the original show and their subsequent friendship segued into Sweetgrass Angels. Their popular group can be found performing at a variety of venues in the Beaufort area. Smith will also share MC duties with Herron.
Jones a composer and arranger
All this great entertainment will be under the musical direction of Eric Jones, pianist for the Savannah Jazz Orchestra. In addition to teaching, composing and arranging, he also performs with other area musical groups. A Georgia native, Jones holds a BA in Piano from Armstrong Atlantic State University and is finishing his Masters in Composition at Georgia Southern University. Other musicians performing in the show include Randall Reese on saxophone and flute, Delbert Felix on bass, Marco Frey on drums and Bruce Spradley on guitar.
Buy Tickets
So, if an evening listening to some really memorable music sounds good to you, get your friends together and come to USCB Center for the Arts at 801 Carteret St. in downtown Beaufort on Saturday, April 19, at 7:30 p.m. Adults $22; Seniors $20 Students $15, all seats reserved. For tickets please go to www.uscbcenterforthearts.com or call the Box Office at 843-521-4145, Mon. – Fri. 10a.m. to 3 p.m. or purchase at the door one hour prior to curtain.
This performance is sponsored by Lowcountry Real Estate.