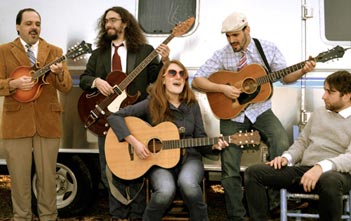 Fripp Friends of Music has had a long tradition of winding up each season's musical concert series with a blockbuster performance.
In recent years, Susan Werner, Jesse Winchester & Dala, all premier singer-songwriters, have delighted Sea Island audiences. Resolve to treat yourself to another extraordinary musical experience, as The Honeycutters, an original country roots band from Asheville, North Carolina, comes to the Lowcountry, March 30th. For the better part of a decade, this group has been playing heartfelt Americana, "organically grown" around the songs of lead singer Amanda Anne Platt—music so catchy, it's become a favorite band of an audience stretching from their mountain home throughout the United States.
Ms. Platt has been hailed as "one of the best songwriters coming out of WNC (Western North Carolina) these days" by WNCW music director Martin Anderson; and her voice has been described as "perfectly unadorned" and "recklessly beautiful." Amanda's song, "Little Bird," won second place in the general category at MerleFest's Chris Austin Songwriting contest in 2011 as well as taking home the grand prize in the Great Lakes Songwriting Contest that same year. Her lyrics are as catchy and as real as her melodies. Dane Smith of Asheville NC's Mountain Xpress writes "Her songs make you sad…in a good way!"
In both her simple composition and honest delivery it's easy to hear the inspiration of country legends such as Patsy Cline, Hank Williams, and Loretta Lynn. Amanda grew up with the sounds of classic country, listening to her father's extensive record collection on Saturday mornings. Despite her love for the style, she cites Bruce Springsteen and Tom Petty as having a huge effect on her musically, yet her original style embodies both wit and an edginess that plants her firmly in her own generation.
The band, which includes accomplished musicians Tal Taylor on mandolin, Rick Cooper on bass, and Josh Milligan on drums, is often described as part of the movement to "take country music back to its roots," but The Honeycutters are just doing what they know how to do best: make music that feels as good to hear as it does to play. Their original brand of Americana has proven equally appealing to both musicians and music lovers in the country and in the city; and to this, and older, generations.
Their most recent release, When Bitter Met Sweet (2012), proved the band's broad and strong attraction. It was an immediate hit on the Americana radio chart, rose quickly, and remained persistently popular week-after-week, ending up in the top 100 for the year. It was also one of the top ten best-selling albums at MerleFest in 2012. The record came in at #4 in WNCW's listener-voted top 100, and #2 among regional favorites (right behind The Avett Brothers).
Their first full length studio release, Irene (May '09), mixed by Grammy Award winning sound engineer David Fergason (Nashville, TN), has garnered radio support across the USA as well as overseas. The album landed The Honeycutters in Iaan Hughes' (No Depression Podcast) top twenty of 2009, Fret Knot Radio Hour's "Nine to Know from '09," and as number 32 in WNCW's listener-voted top 100.
Since the release of their first album, The Honeycutters have shared the stage with such Americana giants as Guy Clark, Tony Rice, The Seldom Scene, Ray Wylie Hubbard, Donna The Buffalo, Jill Andrews, and The Steep Canyon Rangers. The Honeycutters are currently working on their third studio album, slated for release in 2014.
Fripp Friends of Music invites you to enjoy The Honeycutters, Sunday, March 30th at 5 pm at the Fripp Island Community Centre, 205 Tarpon Blvd. Fripp Island SC, 29920. Tickets at the door: Adults $25 per person/$10 for students. All attendees receive a free entry pass at the Fripp Gate and are invited to join the artists at an included catered event following the performance.
For more information call 838-6655 or visit www.islc.net/friendsofmusic/