Duncan Sheik & Meredith Inglesby Come Home for a Great Cause – The Arts Center!
They grew up with the beach as their hometown backdrop, but with the arts as a guiding force in their creative journeys. Both Duncan Sheik and Meredith Inglesby are hometown success stories, having each moved to New York and conquered the Big Apple. Now they're back to celebrate the Arts Center, with a special performance at its Spring Gala, April 6.
After breaking through to great success in the late '90s with his Top 20 single "Barely Breathing," Duncan Sheik spent much of the subsequent decade taking a breather from the usual rock singer/songwriter rituals. His focus was on albums that broke with pop music conventions and, additionally, theatrical musicals like Spring Awakening, the Broadway sensation that won him two Tony Awards and a Grammy. Duncan will be headlining the Gala event, and also performing in a solo concert on April 7 at the Arts Center.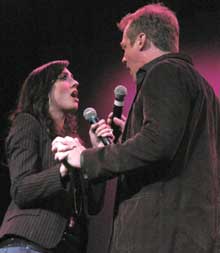 Meredith Inglesby, a Hilton Head Prep graduate, made her professional debut at the Arts Center over 14 years ago as Eliza Doolittle in My Fair Lady. She has since been featured in Broadway's Beauty and the Beast and The Little Mermaid, along with national tours of Little House on the Prairie, The Musical and Disney's On the Record. This time, Meredith is bringing home her husband, Steve Blanchard, a Broadway celeb as well, having starred as Beast in Broadway's Beauty and the Beast. The three will showcase their collective and immense talent on stage April 6 for the Arts Center's Spring Gala and Special Benefit Performance.
Having grown up on the island, both Meredith and Duncan hold a special place in their hearts for the arts on Hilton Head, and remember their youth with fondness. Each having experienced profound success in New York City, they are home to demonstrate their support of the Arts Center and what it means to them. Expressing her passion for the arts, Meredith said, "The Arts Center brings to Hilton head Island the very important medium of quality live theatre. Having grown up here, I was enriched by local theatre. Exposing children and adults alike to this art form is an important part of our history and culture as human beings."
The gala will begin with a 6pm cocktail hour, featuring open bar, wines, champagne and hors d'oeuvres, followed by an unforgettable performance by Duncan Sheik, composer of the smash Broadway coming-of-age musical, Spring Awakening, who'll sing some of his Grammy-award winning hits as well as some Broadway numbers as well. Inglesby and Blanchard will join Sheik on stage as the three perform both theater and pop selections.
For more information on the gala, please contact the Arts Center at (843) 686-3945 x. 306.
DUNCAN SHEIK IN CONCERT – APRIL 7
On Sunday, April 7, the Arts Center will be presenting Duncan Sheik in Concert at 2pm, in a phenomenal public performance, in which Sheik will perform some of his smash hits from his Grammy-award winning albums, including music from his latest "Covers 80s" CD. Sheik's recognizable and beautifully-written music has been the part of the soundtrack to numerous TV shows and major motion pictures. His music appeals to a cross-section of generations.
Tickets are $45 and may be purchased by calling the box office at (843) 842-ARTS or online at www.artshhi.com.