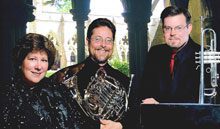 Would you believe—the Brass Roots Trio played in the White House for the American President, his family and staff during the Christmas holidays, and the three musicians were praised lavishly for "a wonderful performance." And would you believe—you, too, can enjoy the fabulous trio on Fripp Island on Sunday, October 20.
Don't expect holiday music, but it is going to be a festive event, nevertheless, especially since the concert will be followed by a catered reception to which you are invited. You will taste spectacular hors d'oeuvres from Harold's Chef Services, have an opportunity to mingle with your fellow concertgoers, and meet the three artists: Rosetta Senkus Bacon (piano), Travis Heath (trumpet and flugelhorn), and Douglas Lundeen (French horn and vocals). 
I will not reveal the evening's program, but you can expect an adventurous mix of light classical, jazz, Americana, spirituals and decadent tangos. You will be surprised when the horn player puts down his instrument and, with his magnificent tenor voice, sings a Verdi aria, or when he and the trumpet player break out into a humorous Cat Duet, based on an operatic Rossini tune, that will make you laugh out loud. 
There is no need to polish the Brass Roots Trio with a lot of glittering compliments. The musicians and their instruments shine at every performance and, since 2004, have played to standing ovations and rave reviews in famous British and American concert halls, the Chicago Brass Festival, community concert events, chamber music series and on NPR.
Pianist Rosetta Senkus Bacon has served on university faculties and performed all over the world, including Taiwan, Switzerland, Lithuania, the Kennedy Center, and The International School of Performing Arts in PA, where she accompanied stars in Master Classes of the Metropolitan Opera. Rosetta graduated from West Virginia University, in her home state, and received an MA from the Manhattan School of Music.  She was the recipient of the "Outstanding Musician Award" from the West Virginia Arts and Humanities Commission.
Dr. Travis Heath is Associate Professor of Trumpet at Northeastern Illinois University in Chicago where he teaches brass methods and conducts the Brass Ensemble. Equally at home with classical and jazz genres, Travis's international performances have included solo works, big band, and chamber music, and he has shared the stage with Ray Charles, The Moody Blues and Arturo Sandoval, to name a few. He received his degrees at the University of Central Florida and Rutgers University. 
Dr. Douglas Lundeen originally trained as an opera singer with Frank Baselice of the Metropolitan Opera.  Self-taught on the French horn, he won first prize for solo natural horn in the 1987 American Horn Competition. Since then Dr. Lundeen has played principal horn with period instrument orchestras all over the US, including on Broadway, He has been a featured recitalist and master clinician at many international conferences. He is currently principal horn of the Princeton Symphony and Associate Professor of Music at Rutgers University. His music has been recorded on multiple labels.  
The Brass Roots Trio will perform on Sunday, Oct. 20, at 5 PM in the Fripp Island Community Centre, 205 Tarpon Blvd. You receive a free pass at the security gate. Tickets are available at the door—cash or check only, we cannot process credit cards. You can call Sheila Carlson at (843) 812-2753 to reserve tickets: adults $30, students and children are free through a grant from the Peg Gorham Memorial Fund. Why not become a member of Fripp Island Friends of Music and save $50 for the season's five concerts. And don't forget, you are invited to the catered "Meet-the-Artists" reception that follows the performance.
This concert is sponsored by the Fripp Island Friends of Music, the SC Arts Commission and Hargray, and it helps sustain the FIFOM Music-in-the Schools Program. See our website frippfriendsofmusic.com for more information.