Beaufort Performing Arts is happy to present award-winning bluegrass band Cherryholmes in concert, on Friday, January 25 at 8 pm.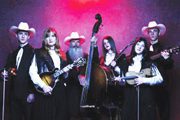 In a genre that prizes musicianship above all else, the Cherryholmes have stormed to the front of the pack with talent, hard work, sacrifice and determination. In fact, the family sold their house and moved into a vintage bus so they could make music full time!
The band's meteoric rise comes as no surprise to anyone who's been following this well-grounded ensemble. The band relies on raw talent and on each other to see them through the tough times, and there have been tough times.
The idea for this exuberant group of musicians was inspired by tragedy. In 1999, their oldest daughter Shelley died at age 20 in her sleep. The family, in grief, decided they needed to do something special to lift their spirits. And then and there the Cherryholmes bluegrass group was started! Sandy Cherryholmes was already home schooling their children-Cia, B.J., Skip and Molly, so incorporating music into the lesson plan was a natural progression. Combining a strict work ethic, talent and the sheer love of making music, the band quickly succeeded and began playing dates around the Western states. By 2002, father Jere was ready to quit his job as a carpenter for the Los Angeles County school system and, before long, they were doing over 250 dates a year and taking the bluegrass world by storm with their breakneck brand of traditional music.
Ricky Scaggs says, "We are just so proud of the Cherryholmes-they are one of the most dedicated, talented band I know,"
Tickets on sale now! University of South Carolina Beaufort's Performing Arts Center. Ticket prices are $40-35-30 and half price for children 12 years old and younger. Box Office: (843) 521-4145 Monday-Friday 10:00AM to 5:00PM. University of South Carolina Beaufort is located in the heart of downtown Beaufort at 801 Carteret St, Beaufort, SC.