Edgy, eclectic Brooklyn Rider to bring unique energy to the USCB Festival Series.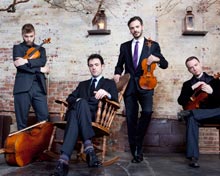 "The dazzling fingers-in-every-pie versatility that Brooklyn Rider exhibits is one of the wonders of contemporary music."– LA Times
The USCB Festival Series has achieved a major coup by capturing this string quartet for its February concert.
This year they are making their Carnegie Hall and USCB Center for the Arts debuts, performing in Beijing and Hong Kong and completing two US tours. Last year they were part of the inaugural Tully Scope Festival at Lincoln Center, joined Persian kamancheh virtuoso Kayhan Kalhor in a European tour, played for the Washington D. C. Performing Arts Society released Brooklyn Rider Plays Philip Glass on the composer's Orange Mountain Music label, which NPR selected it as one of the best classical albums of the year.
In recent seasons, Brooklyn Rider has appeared at the Cologne Philharmonie, American Academy in Rome, Malmö Festival in Sweden, Spoleto Festival USA, the Kimmel Center in Philadelphia and SXSW Festival as the only classical group invited to play there. They have turned up playing in all kinds of venues and thus have attracted all types of fans, from Joe's Pub, the US Open and Alice Tully Hall in New York City, Todai-ji Temple in Japan, the Library of Congress, and the South By Southwest Festival.
Johnny Gandelsman, violin; Colin Jacobsen, violin; Nicholas Cords, viola, and Eric Jacobsen, cello have created a medium for communicating across historical and geographical lines. They bring new energy to interpreting the works of the masters, and they are eager to perform new works of their own and others. In Beaufort they will perform a piece by member violinist, Colin Jacobsen.
They have collaborated with such composers as Dmitri Yanov-Yanovsky, Lisa Bielawa, Philip Glass and Jenny Scheinman. They also work creatively with many other artists such as Chinese pipa virtuoso Wu Man, Syrian/Armenian visual artist Kevork Mourad, traditional and technology-based Japanese shakuhachi player Kojiro Umezaki, Irish fiddle player Martin Hayes, the trio 2 Foot Yard, and singer/songwriters Christina Courtin and Suzanne Vega. Work with Kayhan Kalhor resulted in the critically acclaimed 2008 recording, Silent City, on the World Village/Harmonia Mundi label. Rhapsody.com selected this recording as one of World Music's Best Albums of the Decade.
"Forgive the hyperbole," wrote Strings, "but I've seen the future of chamber music and it is Brooklyn Rider." NPR has featured the quartet on Tiny Desk Concerts, All Songs Considered, Deceptive Cadence and All Things Considered.   They are also favorites on WNYC's Soundcheck, and American Public Media's Performance Today, as well as NY1 News TV in New York City. Their music is played on US radio stations ranging in focus from classical to world, jazz, pop and new music.
The quartet's name is inspired in part by The Blue Rider, a pre World War I Munich-based group of artists including Vassily Kandinsky, Franz Marc, Arnold Schoenberg and Alexander Scriabin. Following their lead, Brooklyn Rider celebrates new visual artists and has created an online art gallery to showcase works of some of their friends. Proceeds are used to support such artists. In the eclectic spirit of Der Blau Reiter, the group also draws inspiration from the exploding array of cultures and artistic energy found in the borough of Brooklyn.
The likes of these artists will not soon be seen or heard again in the Lowcountry. For more complete bios of the artists and for a complete program, please go to http://www.uscb.edu/festivalseries
For advance tickets, call Staci Breton at 843-208-8246, Monday – Friday 8:30 – 4:30. Tickets are also available at the door. Tickets start at $40. The concert begins at 5 on Sunday, February 19th at the USCB Center for the Arts on Carteret Street.