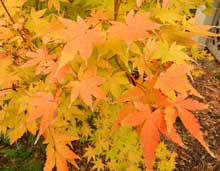 Hasn't the weather been perfect for enjoying the outdoors? The cool weather arrived just in time for raking, cleaning up, mulching and planting. Remember this is absolutely the most perfect time to plant perennials, spring bulbs, shrubs and trees. I have to admit, however, it went from too hot to cool rather abruptly. One day I was wishing for cooler weather and the next I was shivering. I am such a wuss about cold and as lovely as it was, I was not ready. Sounds silly now, but for a few days, until my body became adjusted, I was snuggled under a comfy throw, sipping warm tea and reading garden books.
One of the perks of being a garden writer is that sometimes publishers send me review copies of new books. Recently, Cool Springs Press sent me two I think will be of interest. Dr. Bob Polomski, Consumer Horticulturist from Clemson, along with co author Toby Bost, a horticulturist from North Carolina, have written the "Carolinas Gardener's Handbook." The subtitle on this one is "All You Need to Know to Plan, Plant and Maintain a Carolinas Garden." In addition to hundreds of proven plants, there are the usual month to month activities, a section on going "green," or dealing with weather challenges, and a section on helpful hints. The individual plant profiles are broken down like this: why the plant is special, how to plant, care, possible problems and solutions, how and when to harvest (for the edibles), best selections, mature size, if a plant is good for containers, hardiness, flower or foliage color, peak season; it's all covered. The books is clearly written and I like how each individual plant is presented; a picture along with cultural information and good ideas for using them. There is a whole section on roses, which can be difficult due to our high humidity and air borne fungal diseases. Incidentally, roses LOVE this cooler weather.
Tropical plants have been hot, hot, hot for the past few years. They thrive in our climate during the summers and they grow quickly to fill in large areas. Nellie Neal, horticulturist known as the Garden Mama to her radio audiences on the Louisiana Gulf Coast, has written the "Gardener's Guide to Tropical Plants; Cool Ways to Add Hot Colors, Bold Foliage and Striking Textures." Because frost is an infrequent visitor in the Lowcountry many of the plants Nellie features are hardy here; others can be grown as annuals during the warmer months. You will recognize a lot of the featured plants like Plumbago and the various elephant ears, they grow well and are not uncommon in the Lowcountry. However, there are others less well known in our area that peaked my interest, like the Brazilian Red Cloak, Megaskepasma erythrochlamys (whew!). I am going to try that one next summer; the picture is gorgeous and it is in the same plant family as the shrimp plant that grows well here. I think it's worth a try.
Now that my system has adjusted to the weather change, I have been outside busily taking cuttings of coleus I want to over winter, spreading pine straw and hay around half hardy plants, carefully cleaning and bringing the most tender plants indoors and admiring the fall foliage on the Japanese Maples. But, you can bet the first rainy day we have I will be curled up with my books again. P.S. Gardening books make great holiday gifts, too.
Read more How Does Your Garden Grow?