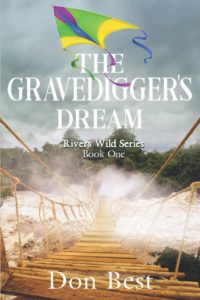 NeverMore Books will host a special book-signing event on Saturday, September 4th, from 2-4 p.m., featuring Don Best, author of The Gravedigger's Dream.
More than ten years in the writing, The Gravedigger's Dream was inspired by the author's personal experience living in the Amazon.
"The Brazilian rainforest is an exquisite and very dangerous garden," says Best. "I've taken that setting, which I know and love, and populated it with some of the wildest characters you'll ever meet."
The story is told through the eyes of Brazilian Zé Licata, the gravedigger, who dreams of overthrowing the country's ruthless tyrant and providing a future for his gifted son, Rafael.
Best has a long and colorful history in Latin America, first as a Peace Corps volunteer in Paraguay, then an expatriate journalist based in Rio de Janeiro, and finally as a missionary-writer living in Santarém, Pará, in the heart of the Amazon.
The Gravedigger's Dream is the first of a two-part series titled Rivers Wild, published by Chicago-based publisher Brimstone Fiction. The second novel—The Third Promise—is due out early next year.
For more information about the event, contact Lorrie Anderson, proprietor, at (843) 812-9460 orNevermorebooks201@gmail.com. Or swing by the store at 910 Port Republic St., in Beaufort.
More information about The Gravedigger's Dream is available on the author's website, at www.donbestauthor.com