A memorial art show featuring watercolor paintings of local beloved artist Mary Ann Putzier will be held from April 1 – May 5 at The Society of Bluffton Artists (SoBA) gallery, located at 6 Church Street in Old Town Bluffton. The exhibit is free and open to the public.
A memorial service is scheduled for 2 p.m. with an art reception immediately after from 3-5 p.m. Sunday, April 7 at the SoBA gallery and the Center for Creative Arts, the building next door to the gallery. The events are open to the public.
Putzier, who passed away in November, often referred to herself as a teacher first and and artist second. Putzier received her masters degree in art education from the University of Minnesota/Mankato. She taught art her entire adult life — including preschoolers, teenagers in public and private schools and adults in art organizations. Over her more than 40-year career, Putzier was an active member of many art organizations, including long-time member of SoBA and All About Art. Additionally, she was honored with numerous awards and exhibited in galleries across the United States.
Watercolor and porcelain painting were Putzier's favorite mediums. Her style was mainly representational with an emphasis on portraits, florals and sceneries. She loved to experiment and try out different subjects and styles. Inspiration for her work mostly came from travel, personal experiences and immediate surroundings.
"Seeing and transforming images and ideas into visual art is what satisfies me most," Putzier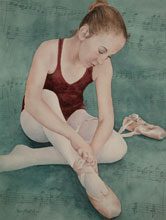 once said. "I paint what I see, fully aware that my perception is unique and personal. People are my inspiration. They, like snowflakes, are an endless resource because of their wonderful variety."
The Society of Bluffton Artists (SoBA) is a non-profit organization established to promote a stimulating community environment for the visual arts and to assist area students and artists in enhancing their artistic abilities.SoBA is the heart of the flourishing art hub in Old Town Bluffton, located at the corner of Church and Calhoun streets. SoBA offers regular art classes, featured artist shows, exhibitions, outreach art programs, scholarships and more. For more information, visitsobagallery.comfor a complete calendar of events or call 843-757-6586.