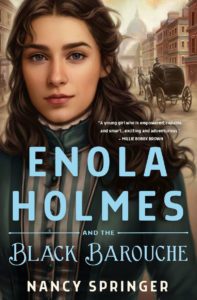 Starring Millie Bobby Brown and Henry Cavill as siblings Enola and Sherlock Holmes, the 2020 breakout hit Netflix film Enola Holmes introduced a new generation to the plucky protagonist of author Nancy Springer's 2006-2010 six-volume Young Adult mystery series. Teenaged detective Enola returns to the page in a new novel, Enola Holmes and the Black Barouche, to be published on August 31.
Bestselling author Nancy Springer will be interviewed by Beaufort High School senior Holland Perryman and Pat Conroy Literary Center executive director Jonathan Haupt on Tuesday, September 14, at 7:00 p.m., in a free virtual conversation about the newest entry in the Enola Holmes series and the success of the film adaption. This online event is presented in partnership with Charleston's Blue Bicycle Books, from which signed copies of Enola Holmes and the Black Barouchewill also be available for sale. Registration is now open at https://aneveningwithnancyspringer.eventbrite.com.
Written in a style to appeal to new fans introduced to Enola Holmes by way of the film as well as to reward established readers of the extant series, Enola Holmes and the Black Barouche delivers an engaging mystery and empowering message for young readers about the importance of persistence, intelligence, and moral courage. The developing supportive relationship between Enola and her older and more famous consulting detective brother also speaks volumes about the value of mentorship.
In addition to writing the nationally bestselling Enola Holmes novels, including The Case of the Missing Marquess, which was made into the hit Netflix movie, Enola Holmes, Nancy Springer is also the author of more than 50 other books for children and adults. She has won many awards, including two Edgar Awards, and has been published in more than thirty countries. She lives in Florida.
Springer will be interviewed by Holland Perryman and Jonathan Haupt. An award-winning young writer, Perryman is also founder of Beaufort High School's DAYLO: Diversity Awareness Youth Literacy Organization. Her book reviews and author interviews have appeared in the Charleston Post and Courier, Beaufort's Lowcountry Weekly, and the Southern Review of Books. Haupt is the executive director of the nonprofit Pat Conroy Literary Center, the former director of the University of South Carolina Press, and coeditor of the multi-award-winning anthology Our Prince of Scribes: Writers Remember Pat Conroy. He is also a frequent book reviewer and monthly author interview podcast host.
Learn more about the Pat Conroy Literary Center at www.patconroyliterarycenter.org, and learn more about Blue Bicycle Books at www.bluebicyclebooks.com.