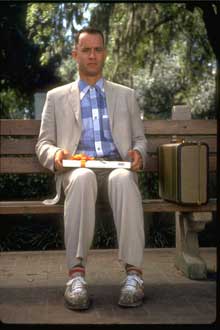 On the occasion of its 20th anniversary, locals look back at the Oscar-sweeping cinematic sensation whose Lowcountry roots run deep.
By Margaret Evans, Editor
Who'd have imagined moving from metropolitan Atlanta to an obscure barrier island off the South Carolina coast could drastically broaden a girl's horizons?
It was the summer of 1993. I had lived on Fripp Island only a short time, but already my life had taken a decided turn for the glamorous. I'd met my literary hero Pat Conroy, who turned out to be a neighbor . . . and now, a movie was being filmed right down the street from my house!
It had a weird name – Forrest Gump? – and according to the scuttlebutt, the movie would be every bit as odd as its title. People weren't quite sure what to make of it. I figured it'd probably go straight to video. Nevertheless, it was a movie. Excitement was in the air. Tom Hanks was starring, and rumor had it he was staying on the island. I dreamed of bumping into him "casually" – maybe on the beach or at the marina bar. I would play it cool, no fawning, and he'd be taken with my low-key southern charm. We'd end up chatting away like old friends and he'd ask me to show him around the island . . .
Never happened. I did, however, pass Hanks one day on the jogging trail. I was out for my daily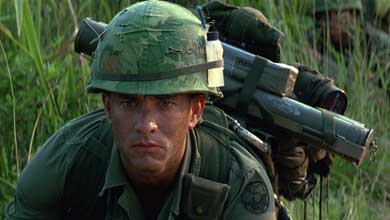 run, and coming toward me along the path was a perfectly ordinary-looking man with a baseball cap pulled low on his forehead. We made brief eye contact, as you often do in these situations, and he was already past me when I realized who he was. Needless to say, the encounter fell slightly short of my dream. Still, my heart pounded. Tom Hanks!
Later that week, a very nice woman came into the dress shop where I worked, and we talked for almost an hour. Her name was Moira, and I can still remember her gravelly voice and her merry, pale blue eyes. We hit it off like gangbusters, just kind of clicked. She told me her husband had a part in the Tom Hanks movie and that she and their kids were enjoying a beach vacation while he worked. He was an actor I'd never heard of before, and I assumed his role was a small one. His name was Gary Sinise.
Those are my personal Forrest Gump stories. They're not much, but they're mine, and I cherish them. Do we ever grow so old, so jaded and world-weary, that we're no longer thrilled by a fleeting brush with celebrity? Do we ever get beyond being dazzled by The Movies and those rarified creatures who make them? I haven't.
On the 20th anniversary of its release, Forrest Gump remains a source of great pride and affection for folks all over the Beaufort area, many of whom were involved in the making of this – yes, I'll go there – iconic American film. My "straight to video" prediction notwithstanding, Gump took six Oscars that season (including Best Picture, Best Director, and Best Actor), the character of Forrest became a fixture in American culture, and Gumpisms found a permanent place in our lexicon. ("Life is like a box of chocolates," etc. etc.) And that actor I'd never heard of, Gary Sinise? Not only did he become a big star; he turned that "small role" – for my money, one of the most moving film performances of all time – into a symbol of hope, traveling from coast to coast (making several stops in Beaufort!) with his Lt. Dan Band, in support of America's wounded warriors.
This year, the Beaufort International Film Festival will celebrate 20 years of Forrest Gump with a special screening of the film, followed by a panel discussion moderated by our own Mark Shaffer. The Festival will also honor Gump's Oscar-winning editor Arthur Schmidt with a Jean Ribaut award for lifetime achievement. Since Lowcountry Weekly is a major media sponsor of BIFF, I set out to do my part by talking with some locals whose connections to this movie are slightly less tenuous than my own. As it turns out, people love remembering Forrest Gump.
The first thing everybody seems to agree on is Tom Hanks. In case you hadn't heard, he's a great guy.
"Tom Hanks was one of the nicest, most genteel people . . . not stuck on himself at all," says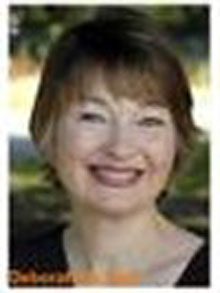 Deborah McTeer, who played one of the four "bench sitters" who listen to Forrest's story while waiting at a bus stop. "The first time I met him, the producers had invited all the bench sitters to come in for a powwow . . . they wanted our input on how we thought our scenes should go. I thought that was really nice. So, we met with the director, the producer, and some other people. Then Tom Hanks comes into the room and says, 'Hi, I'm Tom Hanks.' To each of us. One by one. It really broke the ice. Every morning, when I came into makeup, he'd be standing around chatting. He's a genuinely funny person. He kept us in stitches between takes."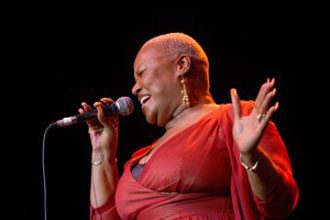 Marlena Smalls agrees. "The first time I met Tom Hanks was when they sent me to makeup, where they were working on him. I went in and sat in a chair. Nervous. Didn't say a word. Total silence in that trailer. All of sudden, Tom says, 'Good morning, Bubba's Mama.' In his Gump accent. I was so comforted by how friendly he was, how warm and encouraging . . . "
Smalls, who played Bubba's Mama and arranged music for the movie, also remembers the easy, gracious way Hanks handled himself around Beaufort. "One night, a bunch of the movie folks were having dinner at Emily's . . . director Robert Zemekis and a few others. Tom walked in and went around to various tables asking people, 'What are you eating? Is that good? Can I try it?' People were laughing so hard . . . they just loved it. It was a smart thing to do, too, because after that, he was able to sit down at his table and enjoy his dinner, and nobody bothered him."
Then, of course, there's the legendary tale of how Hanks came upon a wedding party waiting outside a downtown Beaufort church, pulled over and parked, and ran up to congratulate the bride. At least, I think that's how the story goes. It differs a little depending on whom you ask. (Was he in a car? On foot? Did he actually kiss the bride?)
Teresa Denton has wonderful memories of Hanks, too, along with the rest of the cast and crew, all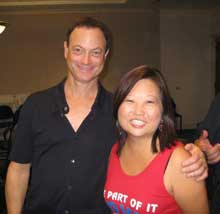 of whom she remembers as "really nice and genuine." She has a special fondness for actor Gary Sinise, of course. She played the fiancée of his character, Lt. Dan.
"Gary is just a real, down to earth, everyday kind of guy," says Denton. "And of course, you know about all his wonderful volunteer work to help raise funds for the severely wounded vets."
Denton credits her role in the movie with giving her the opportunity to volunteer with the Lt. Dan Band concerts in Beaufort for three years, the last two as backstage coordinator. "When Gary Sinise would see me each year, he'd say, 'Hey, there's my fiancée!" and then I would get a hug. It has been great – no, an honor – to help raise money with the Independence Fund for these vets who have served our country. And now Beaufort has our own Healing Heroes of the Lowcountry fund to help local wounded vets."
Deborah McTeer remembers the special camaraderie she shared with her fellow bench sitters. "There were four of us, and the other three had gotten their roles through their agents. I didn't have one of those." Deborah, who lives in the little town of Early Branch, near the slightly bigger little town of Yemassee, had always had an interest in acting. She'd done several productions with the Beaufort Little Theatre and had even been an extra in The Big Chill. She credits her friend Suzanne Larson, a fellow thespian, for giving her the courage to attend the Forrest Gump "cattle call" in Savannah that eventually landed her on the bench beside Tom Hanks. "I'm not a very adventurous spirit," she says, "so I needed that extra push."
McTeer, a homemaker and former teacher, says she almost didn't get the part. After she'd waited in line for over an hour at the cattle call, the first casting director she met simply took her resume and headshot and tossed them in a box, barely looking at her. Larson persuaded McTeer to join her in a different line, and that casting director liked what he saw, inviting McTeer to a reading in Beaufort the following week. "When they finally called to tell me I had the part, I couldn't believe it. I was thrilled! Over the moon!" Later, McTeer's son Evans was cast as one of the children on Forrest's school bus, making the movie a family affair. "I tried to get my daughter cast as the child I hold in my lap on the bench. I'm glad that didn't work out, because they ended up using twin boys, which was very convenient. Whenever one got fussy, they'd just swap him out! It was one less thing for me to worry about."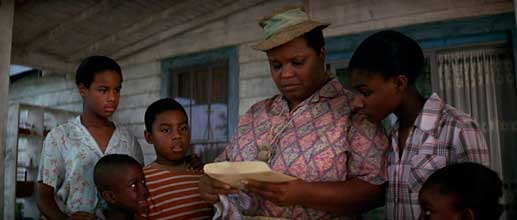 Marlena Smalls wasn't the least bit interested in acting when the role of Bubba's Mama just kind of fell in her lap. Already well known for her work with the Hallelujah Singers, she'd been hired by Gump's music producer to arrange five gospel tunes for the movie. One day, she was invited to join some of the crew for lunch.
"I went to the office to eat," she says, "and Ellen Lewis, the casting director, was there. Out of the blue, she asked me to read. I thought it was a joke. To this day, I still don't know that it wasn't. Anyway, they put my reading on film and Ellen gave it to Zemekis. Next thing I know, I was getting a call from California . . ."
Smalls shares a funny story involving Bubba's Mama and director Robert Zemekis. "Everybody's always asking me about the scene where I get the check and then I faint," she says. "First, they want to know how much the check was for. It was $3 million, I think. Then they want to know if it was hard falling. Well, here's the thing. The whole time we were shooting that scene, I was worried that people were going to see my underwear. There were six good-looking guys behind me with a full-sized mattress, but I just couldn't fall back because I was worried about my underwear. So we had to start the scene over and over again . . . I think it was about nine times. Finally, Robert Zemekis asked me what was wrong, and I told him. He said, 'Marlena, are you wearing underwear?' I said, 'Of course I am!' He chuckled and said, 'Then Marlena . . . just fall.' And that's when I fell."
Teresa Denton had her own "wardrobe malfunction" on set during her second morning of filming. The scene was the wedding of Forrest and Jenny, and she was there with her "fiancé," Gary Sinise.
"When we broke for lunch, I put my heels in the side pocket of my chair and wore the flats I'd brought as we walked to the lunch trailers. (By the way, the food was fabulous! I had snow crab legs, and my husband – an extra in the film – had a T-bone steak as big as his plate. They had a salad bar, and a whole table full of different kinds of desserts.) When we came back from lunch, the set had been rearranged for the wedding ceremony and my chair was nowhere to be seen. Remember, it had my shoes in the pocket. I had the props people and production assistant looking everywhere for it; we went inside the Gump house, looked all around outside, and I was getting really worried! I thought I was going to be sent home – fired. By then, everyone was
sitting in their chairs with the minister was standing up front, so the PA told me to just go sit without shoes. I tucked my feet up a little, hoping the director wouldn't notice. Finally, they found the chair with my shoes on the back screen porch. I'm pretty sure the final cut shows me with shoes, but it's hard to see in the movie."
So how do they feel now, 20 years after the making of Forrest Gump? The folks I talked to are unanimous in their abiding gratitude for the experience, and each believes it opened doors to opportunity. While none of them went on to become a movie star, Smalls, Denton and McTeer have all worked on other films since. Through her friendship with actor Mykelti Williamson (Bubba), Smalls even made contact with an entertainment attorney who later helped her establish music tours through Europe.
"After the movie was released I was recognized in public places as Lt. Dan's Fiancée," says Teresa Denton. "It was fun when we went on vacation to Orlando, and while waiting in line at Disney, someone would say, 'You look like that girl in the movie Forrest Gump.' And I would say, 'That's because I am that girl.' And then excitement would ensue and requests for autographs and pictures. This is what it must feel like to be famous! Well, I only got a small inkling of that. I would tell them that I'm really not famous, that I really work in a bank . . ."
Most of all, everybody who worked on Gump seems to treasure having been part of this cultural phenomenon . . . this eccentric, creatively-risky film that could have gone bust – both critically and commercially – but instead became a beloved American classic.
"I'm so happy that I was a part of Forrest Gump," says Deborah McTeer. "It's been rated one of the top 100 films of all time. It's part of our culture. I love the film. I think it was God's gift to me."

Other area residents remember Forrest Gump:
"I helped blow up the dynamite after the filming. 
They had to use up the explosives before they left Fripp, and they let us press the red button. It was a rush and makes you feel very powerful." – Carol Wilkening
"I was in the movie (in DC, though) and I have a picture from the set in my uniform. It was near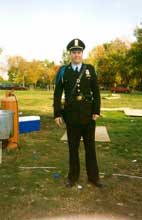 the Lincoln Memorial where they shot the scene with the (supposedly) huge crowd around the reflection pool (where Forrest and Jenny came together) while all the speeches were going on. Remember the park policeman pulls all the microphone and speaker plugs? We drew straws to see which one of us five park policemen would get to do that; some other guy won!" – John Tilly
"My son, Bob Blose was in several Vietnam scenes. No speaking part but a great experience for him." – Chrystine Hendrick
"Twenty years?! Wow. My dad worked security on the film sets. . . I know my friend ‪Andy Lepper‬‬‬‬ was an extra in a scene that was never used, a civil rights march. And didn't the Lipsitz family (well, their store) provide a lot of the costumes for the film?
" – Kimberly Morgan
"My dad, Jim Cook, did a lot of the electrical on the sets. He was very proud of that. He made copies of his checks from Paramount." – Angie Gardner
The Beaufort International Film Festival will present a special screening of Forrest Gump on Friday, February 14th at 7 pm, at the USCB Center for the Arts. A panel discussion will follow. For more information, visit www.beaufortfilmfestival.com