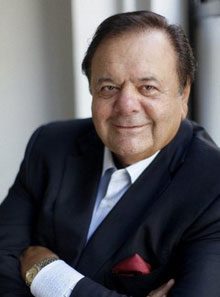 The Beaufort Film Society is honored to announce that Paul Sorvino will be presented the prestigious Pat Conroy Lifetime Achievement Award at the 13th annual Beaufort International Film Festival in February. The festival dates are February 19-24, 2019 with the Red Carpet Reception and Awards Gala taking place on Sunday, February 24th at the University of South Carolina, Beaufort, Center for the Arts.
"If you look at his body of work in the film and television industries, his work on Broadway, his philanthropic efforts over the past six decades, you can see why we're so very honored to present the Pat Conroy Lifetime Achievement Award to the legendary entertainer Paul Sorvino," says Beaufort Film Society President Ron Tucker.
The award is named for bestselling author and Academy Award nominated Screenwriter Pat Conroy, who was a long time resident of Beaufort before his death in March 2016. "Beaufort's long film history began with Pat when his novel The Great Santini was made into a feature film followed later by The Prince of Tides. Both films were shot right here in Beaufort," says Rebecca Tucker, Co-Director of the Beaufort International Film Festival.
Brooklyn-born actor Paul Sorvino began his career as a 16-year-old singer at a Catskills resort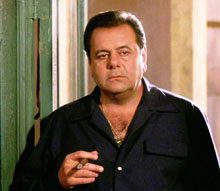 dreaming of becoming an opera singer. And it was no pipe dream. He had studied singing for years and, to this day, has a beautiful tenor voice. But rent and real life led him into a variety of odd jobs and a stint in the Army.
His singing hopes somewhat stifled by asthma, he redirected his career into what promised to be a more promising field—acting. Years of acting and vocal lessons were largely supported through scholarships. After studying dramatic arts under the tutelage of renowned acting teacher Sanford Meisner at the prestigious American Musical and Dramatic Academy in New York City, Mr. Sorvino made his Broadway debut at 25 acting and singing in the original 1964 production of the musical Bajour.
Over the next three years, Mr. Sorvino worked a variety of jobs (salesman, chauffeur, etc.) while gaining prominence as an advertising writer/creative director and pursuing his acting career. He made his film debut in Carl Reiner's 1970 comedy Going Ape and began a career solely dedicated to acting and occasional singing.
At 40, the tenor made his lifelong dream come true with his operatic debut in Die Fledermaus, selling out six performances at the Seattle Opera (the impresario Glynn Ross told the press Mr. Sorvino had "one of the voices of the century"). The reviews included "he has an astonishing high C." In opera, he would go on to sing the lead in The Most Happy Fella in 2006 at The New York City Opera at Lincoln Center and sold out 15 critically acclaimed performances.
Paul Sorvino's resume is as long and varied as any performer could hope for, including over 180 movies and television shows, two operas, three Broadway plays, musicals on Broadway and at major theaters across the country. For That Championship Season, he won six awards including the New York Drama Critics Award for Best Actor, Drama Desk, Obie, Outer Critics Circle, Clarence Derwent awards and a Tony nomination for playing the rich, morally bankrupt Phil Romano.
TV has seen him as The Oldest Rookie, in Law and Order, That's Life, Bert D'Angelo Superstar, with stints on Still Standing as well as many singing appearances. Public Television has aired his special Paul Sorvino Sings (he can be heard on the album of the same name). TV was also the medium for Dummy, the Peabody award-winning drama in which he played Lowell Myers, the ground-breaking deaf trial lawyer.
His films include Goodfellas, Nixon, Reds, Money Talks, See Spot Run, The Brinks Job, Bulworth, Mambo Italiano, Romeo and Juliet, The Cooler, Dick Tracy, The Bronx Bull, and many others.