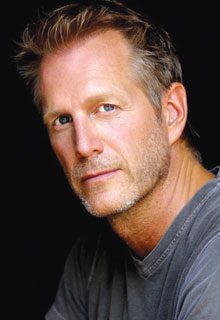 By Mark Shaffer, Features Editor

Each year for the film festival edition of Lowcountry Weekly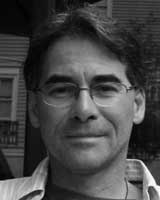 we ask a number of the attending filmmakers to take part in a simple, slightly goofy little Q&A. It's our way of breaking the ice with newcomers and catching up with old friends from past festivals. Out of the Features category Producer Hoyt Richards (left) and Director David Spaltro responded. Richards' "Intersection" is a romantic thriller with a twist that's been racking up awards all over the festival circuit.
Spaltro describes his female driven "…In The Dark" as "old school psychological horror," a first for BIFF. Director Evan Vetter is back for the second consecutive year with the highly anticipated documentary "Daylight Come," a film he says is simply about hope. David Barnhart has two documentaries in competition, "Kepulihan: When the Waters Recede" and "Locked in a Box".
In 2012 Director Felix Martiz' flew back to L.A. with Best Feature and Best Actor trophies for his edgy crime drama, "Santiago." He's back with a short called "A Prayer For the Lonely." Justin Long is slated to receive the Santini Spirit Award for "No Greater Love," a film that documents the harrowing experience of combat through the eyes of an Army chaplain. Chip White's short film "A Chess Player" is a family affair. Three generations of Whites appear in the film. Chip's sister, Vanna is a producer. She is also one of the festival's special honorees for 2016 with the Spirit and Pride of South Carolina Award.
THE Q&A (Uncut Version)

First timers: BIFF's pretty small but we tend to get a lot of word-of-mouth. How did you find out about us?
Chip White (right): It popped up on a Film Festival list a couple of years ago. At the time we didn't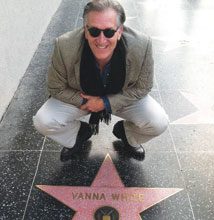 have anything to offer.
David Spaltro: VW Scheich, a filmmaker and friend who recently moved to the town–seriously, isn't he the mayor by now? — has been saying nothing but amazing things about the festival, the town, and the movie lovers.
David Barnhart: My good friend had a film in BIFF in 2015 and afterwards he talked a lot about what a great experience the festival was, in terms of how wonderful the people were, how supportive all the filmmakers were, and how the community really came out to support the films. He said that it was one of the best film festivals that he had been to.
Hoyt Richards: I heard about BIFF through word of mouth from other filmmakers. People are talking…
Justin Roberts: I actually found out about BIFF through Linda and David Apsden of CruMilitary. They are at the forefront of helping our veterans and service members and are just an incredible group of people. They are from the Beaufort area and let me know about this great festival!

Returnees: What's so darned special about this little gathering?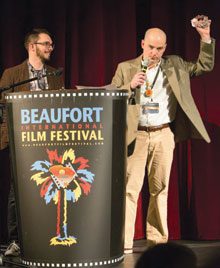 Evan Vetter (left, with trophy): This is the southern drawl of festivals. The pace is nice and easy, the audiences are engaged and the community loves film. What's not to love!
Felix Martiz: What's special about this gathering is that Beaufort gets me! Seriously if you look at my films that have screened here they've all been very different yet have been welcomed with open arms. Working as an independent filmmaker with ultra low (really non-existent) budgets, takes its toll, both physically and emotionally. So receiving the support that BIFF and everyone in Beaufort has given me means a great deal and allows me to keep going.
Every independent film's got a story behind it. What's yours?
David Spaltro (right): "In the Dark" is my third feature, but first attempt at the genre of horror–hired
by a financier who wanted to make a scary flick, to write and direct one. It's my attempt at old-school psychological horror and X-Files I grew up with, anchored by an all-female cast of talented actresses and a real core story at the center.
Chip White: Whether it's chess, sports or being a CEO when you put too much of yourself into what something and you lose it, the fall can be hard. It's about balance.
"A Chess Player" also features 3 generations of Whites. My son Crawford has a brief part, myself of course and my father actually plays my father later in the film.
David Barnhart: [With] "Kepulihan: When the Waters Recede" our hope was to use the film to enable tsunami survivors in their own recovery through story. We started working with 26 survivors immediately after the 2004 Tsunami and over the years it narrowed down to 3 people and then eventually to Pak Yadi. When we first met him in 2005 on the island of Sumatra he took us on a short walk to a makeshift gravesite where he had buried 15 family members after a series of tsunamis killed more than half the population of his community – only he and his nephew survived. Over the next 10 years we traveled back to Indonesia to spend time with him and record his thoughts, reflections and insights, as he searched, amidst the loss and devastation, to find a way forward.
With "Locked in a Box" I thought I was pretty aware of the issues around immigration and detention but the "for profit" aspect and the "bed quotas" were stunning to me. Each new interview revealed another layer to this system and the humanity at the heart of it: children leaving handprints all over the glass separating them from their father as they try to say goodbye before he is deported; a 70 yr old grandfather, who hasn't been to his home country since middle school, being held for 4 years in detention (at a cost of $160 per day) and then ultimately being deported. Our ultimate goal in filmmaking is to get at the heart of what we are focusing on, and what you discover with immigration detention are the people and families that are being torn apart in this brutal system.
Hoyt Richards: "Intersection" was written by a father and son team and directed by the son, Tim French. I was initially hired only as an actor but came on to be a producer once it was apparent that they were undermanned and inexperienced. We shot the film in 15 days on location in Taft, CA. It looks exactly as it is portrayed in the film – kind of a run down ghost town that time forgot. The town is literally another character in the story.
Evan Vetter: My documentary Daylight Come started when I heard two women I knew talking about moving to the Congo to work with women and children affected by the conflict there. We started it as a podcast and it turned into a feature length documentary that follows this group of women as they work to rebuild their lives.
Felix Martiz: We made this film with a crew of seven in two days. The actors all learned the prayers and hymns hours before we had to film those scenes.
Justin Roberts: The goal of putting this documentary together was to share what I learned from the soldiers I served with: namely that behind every act of courage is brotherhood or sisterhood driving it.

Here's a chance to put some butts in seats: why do we need to see your film?
Hoyt Richards: If you like a romantic thriller with a surprising twist then Intersection will be right up your alley. The film has been having a strong festival run, already winning 15 Best Picture and 10 Best Actor awards.
David Barnhart: I think both of our films, "Kepulihan" and "Locked in a Box" get at the heart of some of these big/important questions and issues and reveal the human story that is there. Kepulihan is a story told through the eyes and words of one survivor over 10 years and looks at the questions that come out of tragedy, loss and suffering and what guides us in those moments when everything we love has been taken away. As the 2016 election moves forward, immigration and detention will become even more prominent in the national conversation and we feel that our film, "Locked in a Box," brings forth a critical perspective and voice to that conversation,
Justin Roberts (left): The war's not over until the wounds of war are healed. And, it takes a community to help our warriors fully come home. The point of No Greater Love is to help mobilize communities to that mission and to empower them stand beside those who have stood up for us.
Felix Martiz (below, right): The reason to watch this film, is the reason I myself go to films; to see a world that we otherwise would not be exposed to. This is a small quiet film that explores a character and a culture that is rarely seen in mainstream films. It's the story of a lonely woman, whose faith has been in the dark recently but finds a glimmer of light in a new friendship. The film has garnered a lot of attention and won awards for the lead performance by Maritza Brikisak. Her performance and the story are both very moving.
Evan Vetter: Congo is a place in great distress, and yet there is a great amount of
light there. Our film works hard to show that even in the heart of darkness, there is hope and light that is worth caring about. It is one of the few documentaries about a conflict like this that leaves you feeling like there is hope for change.     

Chip White: There's a little bit of Tony Summerall in all of us, we define ourselves by our work, our talent or success, etc. "A Chess Player" reminds us that sometimes we need a new perspective.
David Spaltro: It's a real rollercoaster of a film with the requisite shrieks, creaks, and special demonic effects, but with a real heart and solid story done up by an incredible, award winning cast of actresses.

We love amusing anecdotes from the set. Got one?
Evan Vetter: I was filming on the streets in the city of Bukavu, Congo when a drain on the side of a building dumped out onto me in the street. For a hypochondriac that was a very unfortunate experience.
David Spaltro: Shot on a shoestring budget in under two weeks, the film pushed the actors into uncharted territory dealing with a fast shooting schedule, a lean crew, and a lot of prosthetic and practical effect make up that didn't always work out. There was some blood everywhere by the end of the shoot.
Chip White: There's a stunt that involves a brick in the film and Shea Sizemore the director shows up on set with this god awful chunk of a fake styrofoam brick he had tried to make, well Bryan Guidroz who plays the dad, (we call him "MacDyver" because he's a deep water diver and a real life "MacGyver") looks at him and says let me see what I can do. The next day Bryan shows up with this PERFECT replica of a 3 hole brick. (See if you can spot it in the film….) After that every time we needed something cool is was "Where's MacDyver I need a…".
That and we have some scenes in a prison, one day the director and I are talking to one of our principle actors about the prison and he proceeds to tell of his 8 month "visit" to this very prison. Ask me about it when you see me.
David Barnhart: This isn't an amusing anecdote but I think it is a really cool one that surprised us. Our fourth trip back to Indonesia (working on the tsunami project) I was visiting with Pak Yadi and his family and showing him his story edited together. He watched his story all the way through 2 times and then suddenly left. About 30 minutes later, local residents from all over started to show up, sitting outside under the palm trees and we suddenly had a large audience gathered for an impromptu screening. The screening was an emotional one because they had lost more than half their population in the Tsunami and Pak Yadi's story was the story of so many survivors in the audience. People openly wept and comforted one another and then enthusiastically applauded at the end. It was one of those things that just happened and we didn't see it coming, but I will never forget it. Story is a powerful thing.
Hoyt Richards: The black corvette that is featured in the film was very problematic. It kept stalling or not even starting. It was like the stories I heard about the mechanical shark in Jaws. You need it to be this intimidating, loud element and most of the time it wouldn't even move.

Big famous festivals last weeks and spread out all over the place. We do this in three days all under one roof. There's no place to hide. Weird or cool?
David Barnhart: Definitely cool. This is what I hear people love most about this festival – all in one place, together. I honestly think that is the way to do it.
Hoyt Richards: Totally cool. We're all looking for a little intimacy in life.
Chip White: Cool… By all means cool. I feel like I don't miss anything that way.
Evan Vetter: Cool – I never have to miss a film I want to see.
Felix Martiz: I love that there's no place to hide, even from the rain. When I won my best director award, I walked up to the stage soaked from the pouring rain that suddenly happened as I walked to auditorium. It's a great layout and fun to see and share moments with other filmmakers in this little gem of a city. The simple answer is that it's weird and cool.
Justin Roberts: Very cool. Communities make or break a festival. From what I've heard, Beaufort has an amazing one. I can't wait to see.
David Spaltro: Weirdly cool. I think the best gift of any filmmaker is to screen their film for a large audience on a big screen and then get to see their reactions and chat with them after the fact, as well as see your peers and their work.

Apart from screening (and maybe taking home a trophy) what else are you looking forward to during your visit?
Evan Vetter: The people of Beaufort are so hospitable and the fact the festival gives filmmakers lodging really is a huge reason I come because I know I have a place to stay and I'll get to meet new filmmakers.
Justin Roberts: Meeting new people. Film communities are a quirky, creative, amazing bunch. It's always a joy when we get to come together and share what we are passionate about.
David Spaltro: Looking forward to checking out the local cuisine and sites, as well as some hopefully good weather!
Chip White: Meeting some of the local Beaufort Film Society members, watching some great films, networking for future projects and possible investment partners.
David Barnhart: I have heard such great things about Beaufort and the community and am looking forward to hanging out on main street and around town and taking it all in.
Hoyt Richards: Beaufort has such a rich history in general (as well as in filmmaking) – I want to see the town! And an extra bonus is that my aunt and uncle moved down here and I don't get to see them much.
Felix Martiz: I am looking forward to a ghostly encounter that I hope repeats from my last visit here, where a voice told me something… This is a true story that you should ask me about in person.
Email Mark Shaffer at backyardtourist@gmail.com