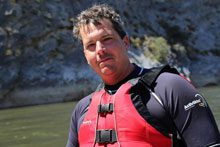 Charleston-based industry veteran John Reynolds honored at Beaufort film festival for his behind the scenes work 
By Mindy Lucas
If John Reynolds had a personal slogan, it mightvery well be,"Have skills, will travel."
Whether he's in Sochi for the Olympics, or London for a royal wedding, the multi-talented, Charleston-based film industry veteran goes from location to location as easily as some people go for take out.
"I'm good at travelling," Reynolds said recently by phone from Florida, where he was working on a project for NASCAR. The week before, the freelance cinematographer/ gaffer was in New Hampshire for the Democratic debate.
"I've got my own secrets on how to do it well," he said, laughing.
The travelling is something he enjoys, Reynolds will tell you, but he also just really enjoys what he does – making movies and working with others on film projects.
"It's an exciting art form, and it's a collaborative art form, but it can be really tough," he said.  "I like the lighting and photography part of it, but every art form eventually has to come together to make the magic."
Which is why Reynolds might very well be the perfect person to take home the Behind-The-Scenes award for this year's Beaufort International Film Festival – he's good at making the magic.
What's more, his fondness for travel and diverse skill set may have once opened doors, but it's hispassion for what he does and attitude toward working with others that's kept him in the room, say those who have worked with him.
"He is really one of the most delightful and creative collaborators one can imagine," said Mark Sloan, Director and Chief Curator for the Halsey Institute of Contemporary Artat the College of Charleston.
Having worked with Reynolds on some 40 documentary films of artists for the college over the years, Sloan said the two had developed a "wonderful working relationship" and could almost anticipate each other's thoughts or ideas on a project.
 "The other thing about him that is so terrific as a film maker is he has a terrific instinct for the meat of the story and the arc of the story," Sloan said.
Not bad for someone who once dropped out of high school.
Having moved to Charleston when he was 14, Reynolds said he "wasn't really into school," but instead went on to study film at Trident Technical College. 
Reynolds later earned a political science degree from the College of Charleston but then decided to try his hand at film.
"I said, well I'm going to give the film business a year and half, and if that doesn't work, I'll go to law school," he said, laughing. "And here I am still working in the business."
The decision seems to have paid off.
Over the last 20 years, Reynolds has worked on a variety of film projects and movie sets and has served in a staggering number of roles from grip to gaffer, electrician, lighting director, editor, producer and director. 
In that time, he's also won five Emmys, two of which were for documentaries he produced, "Where Do We Go From Here," about the Civil Rights movement, and "For Every Person There is a Name," about the Holocaust – projects he's particularly proud of given their subject matter.
He's also proud of the work that has allowed him to "shoot film," or serve as cinematographer, such as his work on "WarriorRoad," a film about a young writer who embarks on a road trip after he and some friends rob a bar in rural South Carolina.
"One of the things I most enjoyed is working on that with Brad Jayne who directed," he said. (Jayne also was a Behind-the-Scenes award recipient. He was honored by the festival in 2017.)
"For the most part, it was an all local crew. For limited resources, I think we made a fantastic product and all worked well together," he said, adding that there are a lot of "good technicians and artists in Charleston," something he sometimes takes for granted when travelling.
"I'm spoiled in Charleston with the people I work with," he said. "When I go out of town, not everybody is up to that standard, but they have some really good, talented people who are dedicated and have that same sort of mindset. They can kind of anticipate what is needed beforehand."
Looking to the future, Reynolds said he'd like to shoot more and make more small films, citing his work on Warrior Road.
"I'd love to do more projects like that," he said, adding that he enjoys working with "great people."
In the meantime, Reynolds admits he has learned a thing or two about the craft when he looks back over the years. The use of minimal lighting, for example, is something he toys with more and more.
"When I first started out, I had some great opportunities, but you learn from your mistakes and I think that's the exciting part – it's always learning. I love working. I love doing my job."
He pauses for a moment as if for reflection.
"I don't know about you, but there was a certain point in my career where I thought, 'Hey I got this figured out."

If You Go
The Beaufort International Film Festival runs through Feb. 23. The awards ceremony, featuring John Reynolds and other award recipients, is at 7 pm Feb. 23, at USCB Center for the Arts. A cocktail hour is at 6pm.
For more information or tickets, call (843) 522-3196 or visit www.beaufortfilmfestival.com.