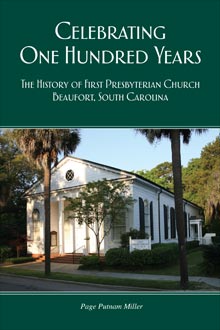 Beaufort is a town famously steeped in history, chock full of national historic landmarks and other distinguished legacies. Having recently celebrated our city's Tricentennial, we shouldn't be surprised that someone's always marking one significant milestone or another around here. Among them, this year, is the congregation of First Presbyterian Church, which has – as of 2012 – officially been in existence for 100 years.
To commemorate their Centennial, members of "First Pres" have planned a number of events, including a special worship service, a celebratory reception, and the unveiling of a new historic marker outside the church. The children and youth of the church are putting together a time capsule, to be opened in 50 years, and – perhaps most exciting – a comprehensive new book chronicling the history of the church has just been published.
Page Putnam Miller, faithful member of First Presbyterian and retired historian, was lured back into service – i.e. the monumental task of compiling this history – by longtime church Elder Emeritus, Betty Waskiewicz, herself the daughter of a charter member.
"When Betty called me in March 2010 to talk about my writing a history of the church, I expressed reservations about such a major undertaking," Miller writes in her introduction. "But Betty is very persuasive and pointed out that some of the work had been done. After a few weeks of deliberation, I consented when she told me that she would assist me in any way that she could. She has more than fulfilled that promise, providing invaluable help and encouragement."
"We often stand on the shoulders of those who come before us," Miller continues. "I am most fortunate to have been able to build on two earlier histories, both of which have proved most useful." The second of those, "The History of First Presbyterian Church, Beaufort SC," was published in 1987, upon the church's 75th anniversary. Miller says she fully anticipates that another history will need to be written in another 25 or 50 years. Such is the nature of the beast.
"My single goal has been to write as complete and as accurate a history of this congregation as I could," she says. "Best intentions not withstanding, I am certain there have been omissions and mistakes."
The first chapter of Miller's book reveals that, despite the relative youth of First Presbyterian – by Beaufort standards, anyway! – there were French Calvinists in this area as far back as 1562. In the 1600s, Presbyterian Scots tried unsuccessfully to build a permanent settlement on Port Royal Island (Stuart's Town), and in the mid-1700s, a more solid Presbyterian presence took root 15 miles from Beaufort with the founding of Stony Creek Presbyterian Church. There were periodic attempts during the 18th and 19th centuries to establish a lasting congregation in the town of Beaufort, but it wasn't until the founding of First Presbyterian, in 1912, that a permanent church was established.
We asked longtime church member Lolita Watson what the little white church on the corner has meant to her over the years.
"Well, I grew up in the Presbyterian church," she said. "So the order of service – doxology, prayers of confession, hymns – all bring me great comfort in a world that's constantly changing. I love the people of First Presbyterian. Some are the very first folks I met in Beaufort, when I moved here 35 years ago. Many have passed away, but they were fine, outstanding folks who loved the Lord, not only in church, but in this community. They were leaders, and they taught me it was important to get involved, to reach out to others less fortunate. While Charlie (my son) wasn't baptized here, he joined the church here and was dragged, sometimes protesting mightily, to Sunday service, youth group, summer youth camp… The church was a foundation as I went through my divorce and struggled with being a single parent… I felt the prayers of the congregation when my dad died, and I was in North Carolina to deal with that grief. And although I'm not in the pews every Sunday, I know the pews are still there, the lights are on, and some of the faces I know, admire and love are still there. That gives me strength."
Senior Pastor, Dr. Patrick Perryman, spoke with us about the future of the church – its challenges and opportunites – as it moves into its second century… and a new era.
"One of the ways that the church of the 21st century will be evaluated is by the impact it has on those who are not a part of its membership," said Perryman. "What difference are we making in the lives of others? How are we blessing the community around us? In years past, many people attended and participated in churches because it was simply expected. Now I believe the way we answer the questions above will determine whether we earn the right to be heard by those who may distrust or simply be disinterested in religion. To that end, my great hope for First Presbyterian is that we will continue a long tradition of outreach and hands-on service to others here in Beaufort. I have posed the question to our leadership many times: What difference would it make to folks who are not members of FPC, if – God forbid – a sinkhole swallowed our congregation? The point is that we are called by Jesus Christ not only to receive God's blessing, but to share it in concrete, tangible, and life-giving ways."
Amen. Let it be so.
First Presbyterian Centennial Events in May
Sunday, May 13th – City Council Proclamation & Unveiling of Historical Marker
Page Putnam Miller will read a proclamation from the City at the end of the 11:00 worship service, then the congregation will gather outside the church, where Elders Emeritus Betty and Stanley Waskiwicz will unveil the historic marker
Sunday, May 20th – Special Service & Celebratory Reception
There will be one service only – at 11 am – and Rev. Dr. Patrick Perryman will preach. (All of the church's past ministers have been inivited to attend.) Following the service, a reception will take place in front of the church, under a tent. Church Street will be blocked at the corner of Church and North. (The small parking beside parlor will be reserved for Handicapped and Senior Citizen parking. Supplemental parking will be provided in designated lots on Harrington Street between North and King Streets.)
"Celebrating One Hundred Years: The History of First Presbyterian Church, Beaufort, South Carolina," by Page Putnam Miller, is available through FPC. The price is $15. For more information about the book or upcoming centennial events, call 843-524-3051.