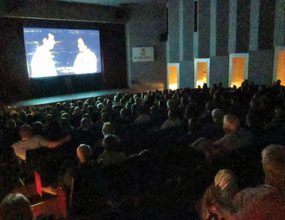 The 11th Beaufort International Festival Beefs Up, Adds a Day
Story and Photos by Mark Shaffer
The 11th edition of the Beaufort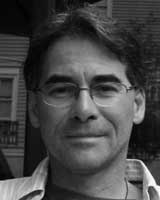 International Film Festival doesn't get underway until mid-February, but this is a critical time in how BIFF 2017 will shape up. Entries continue to pour in while deadlines loom ahead. The festival is a part of the Beaufort Film Society, the non-profit created and run by Ron and Rebecca Tucker. In the aftermath of the 2016 festival, the Tuckers did what they always do: sit down and figure out what went right and what went not so right. As attendance pushed the capacity of the Center for the Performing Arts (it's all under one roof), the Tuckers were faced with the happy dilemma of addressing the issue of continued growth.
Last Spring they also announced the creation of a Board of Advisors. Members include Oscar winning sound engineer Eugene Gearty (Gangs of New York, Life of Pi), Oscar nominated film editor Craig McKay (Silence of the Lambs, Philadelphia), Oscar nominated actor Michael O'Keefe (The Great Santini), Golden Globe nominees Blythe Danner (The Great Santini, Prince of Tides) and Andie MacDowell (Groundhog Day). Local resident and world-renowned entertainer Dr. Marlena Smalls rounds out the list with USCB Media Arts professor and animation guru, Topher Maraffi.
            In addition to keeping up with the demands of a growing destination event, the Tuckers have partnered on a feature film project with BIFF alumni VW Scheich and Uyen Le. The former Los Angelenos' debut feature film, Interwoven, won the Audience Choice Award at last year's fest. Their next project, the Beaufort-based comedy Basement Bob, was literally born out of their BIFF experience. It's all part of a plan. I recently sat down with all four to catch up on things over cocktails at Breakwater.
            Mark Shaffer: This year you finally realized that three days just wasn't enough time.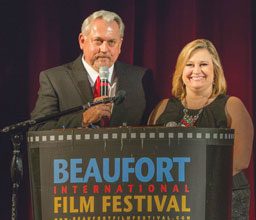 Rebecca Tucker: There were a lot of films that didn't get selected because of time constraints. We decided that we definitely had to go ahead and extend the screening schedule another day. So, we'll run through Sunday and have the awards that night.
            MS: You've also teamed up with USCB on a digital symposium that will be open to the public.
            Ron Tucker: That's with [Media Arts professor] Topher Maraffi and highlights this whole new program they're developing at USCB. It's going to make a big splash and we're providing the platform at some point during the festival. It may run concurrent with the screenings and that will be the first time we've done this sort of thing at BIFF, but we'll do it right there at USCB so everything stays under one roof.
            MS: We've talked about integrating this sort of thing into BIFF for years with workshops and seminars.
            Rebecca: Yes, we have. This is the sort of thing that's going to appeal to our students, our young adults.
            Ron: We love our audience, but we're always looking to expand our audience. That's why we're giving a hard look at movies that might be a little . . . different from years past. So far we've got about 200 total entries and 30 features. And most of them are phenomenal.
            MS: Is it a varied slate of different subject matter or do you see a trend?
            Rebecca: We've seen some things that are very current – issues of the day, sort of stuff.
            Ron: And the student films we've gotten so far are pretty varied and really good. And now the colleges and universities are coming to us.
            MS: Is there a sense that you've "arrived" when they seek you out?
            Ron: We always feel like we're scratching for respect, like we're little tiny Beaufort, South Carolina that no one's heard of. Where do you fit in? Not everyone's going to be Sundance and we don't want to be.
            MS: Sundance can't even be Sundance anymore. It's become a meat market and the festival's spread over half of Utah.
            Ron: We want to be Beaufort and we want [other festivals] to want to be like Beaufort.
            Rebecca: Absolutely, we want to be the model.
            VW Scheich: The filmmakers are already saying this at other festivals, "Why isn't this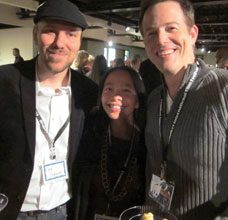 more like Beaufort?" I talked to [a filmmaker friend] and he said, "I've been to 26 film festivals and the one I remember best and talk about most is Beaufort."
           MS: "You first came here in 2013, made some connections, liked the town and something clicked. You finished your first feature and promptly bolted out of Los Angeles and moved here, where you want to make your next feature.
            VW: Our first taste of Beaufort was Ron's voice on the phone (mimicking Ron) "Hey guys, saw your film and it's pretty good. You wanna be in the festival, right?"
            (Laughter)
            That never happens. That set BIFF apart from anything else we'd experienced. You usually get an email where your name's been inserted with countless others. "Congratulations on your film. Unfortunately, we are not able to program you at this time."
            MS: So it was the personal touch?
            Uyen Le: Yes. And when we got here there was such a large audience and they all wanted to talk to us.
            VW: 11am on a Thursday we had over a hundred people in the audience. We were like, there's no way in a small South Carolina town we're going to get people to come see a short film in German about a 1920's high wire walker. It's going to be me, Uyen and the projectionist.
            Ron: You also had our special guest that year [producer/director] Michael Tollin (Radio, Coach Carter) who specifically asked for a copy of "Wallenda."
            Uyen: And programming the short films to be individually screened is another special touch. Like Ron and Rebbecca say, "Every filmmaker is important." That shows.
            VW: And that extends to opening night where they have every restaurant in town involved and you can sample what they're offering. And you meet the chefs and owners and then there's the mayor to welcome everybody.
            Uyen: The sense of community that BIFF is founded on really comes through and that's very special.
            VW: Everybody in town makes time on their calendar to come to the festival. It's important. It's all under one roof and you can walk everywhere. This is important after three or four bars.
            MS: You moved here to make Basement Bob. The Beaufort Film Society's on board –
            VW: They're associate producing.
            MS: You recently had massive turnouts at a couple of events to cast the dog in the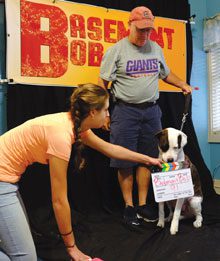 movie. What does that tell you?
            Uyen: It tells us that people love their dogs and they desperately want a movie to be made here. They're ready for filmmaking to return.
            MS: What has to happen for cameras to roll at this point?
            Uyen: We have to lock down the financing before we can 100% greenlight this film.
            VW: We have been meeting with potential investors who'd like to see a feature film shot in Beaufort again. We've found people in town who've stepped forward due to the new investment structure. And it feels like we're close, just a few more meetings. Of course, the goal is still to get the community involved as much as possible.
            MS: You've been here long enough to build a brand. Basement Bob is known. People talk about it all the time. This represents the culmination of the goal behind BIFF in the first place: to bring movies back to Beaufort.
            Ron: It's major. We do interviews and we're always asked, "Where did the movies go?" And we have to explain incentives and how Canada changed things and then Louisiana went all-in as South Carolina was about to inch back in the game. Then Georgia got serious.
            Uyen: [The business] got so competitive so quickly, even in California people were asking why this or that production left. It was simple: there was no incentive to stay.
            MS: And certainly none here for a very long time. Then North Carolina almost literally kicked the film industry out – like we did – and Georgia exploded. TV and movies spent more than two billion dollars in Georgia last year and they're looking to double that next year. Boeing can't compete with that.
            Ron: Yep. Twelve years ago we created the Beaufort Film Commission with the idea of once again making Beaufort a film-friendly place. Eventually that all got passed to the film society. We took it on – even though we're not supported financially by any other entity – to try and promote film. Since that time we've worked closely with the state film office to put some puzzle pieces together to make us more attractive to filmmakers who want to do something like Basement Bob – make a movie for less than $500,000 and have them partially funded through the community. We want to be the model for that.
            And this isn't all about movies. It's about photo shoots, commercials and TV series. I just read that a new series is going to shoot in Savannah this fall and the economic impact from that alone is forecast to be $50 million. And it's about Harriet Tubman.
            MS: There's a bridge named for her not far from here.
            Ron: That's the point. But it all comes down to incentives.
            VW: The minimum budget to qualify for incentives here is a million dollars. So, that doesn't even apply to us.
            Uyen: There's no minimum in Georgia.
            VW: And if I make a movie down there and put that Georgia peach logo at the end, that's an additional incentive for absolutely nothing.
            MS: You've built BIFF into the biggest, most successful film festival in the state. It get's bigger again in February. How's it shaping up?
            Ron: The soft deadline for submissions is September 30th. The "drop dead" deadline is October 31st, fifteen days earlier than last year. We've been pushing everybody to get things in because even at six months out we think in terms of two months out. We've got a lot of entries from BIFF alumni.
            MS: That's a great aspect. You've got a decade's worth of alumni – including a lot of former students now working in the industry who come back year after year. Some, like Gary Weeks just refuse to leave (laughter).
            Ron: I heard recently from one who worked on Star Wars: The Force Awakens, and another who's working on a project with Aaron Paul, and more mostly based in L.A.
            Rebecca: We're going to do something with the alumni, definitely.
            VW: It's not easy to do this for a living. In fact, it's almost impossible because if it were easy everybody would be doing it. But we're doing the impossible and we're making ground all the time.
            Uyen: Actually, making the movie is often the easiest part of the process. Finding the money is the biggest challenge. It takes someone willing to get involved in the process who knows that their investment will have a wider impact than just making a movie.
            Rebecca: All it takes to start that process all over again and impact tourism and more is getting the movie made in the first place.
            VW: So, let's make a movie!
ETCETERA
Join the Beaufort Film Society and reserve your tickets for the 2017 Beaufort International Film Festival at www.beaufortfilmfestival.com. Advance tickets for the 4th annual Bourbon & Barrels fundraiser are also available.
Learn more about Basement Bob at www.rareformpictures.com