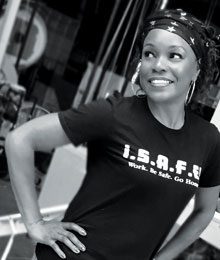 Charleston's Joyce Gilliard Recognized for Career Achievement
Story by Mark Shaffer
Photos courtesy Joyce Gilliard
Even over the phone, Joyce Gilliard comes across as a force of nature. She has to be with a resume like this: 30 years as a professional hairstylist, author, activist, educator, motivational speaker, founder of the SC Hair & Makeup Network and creator of the non-profit iSAFE! TV & FiLM, LLC. And somewhere in there she's managed to have a family (3 kids), work toward her doctorate in cosmetology and start another book. She's genuinely flabbergasted at being honored with the Behind the Scenes Award at this year's Beaufort International Film Festival. "I'm still trying to wrap my head around it," she says. "It's crazy."
            After years of working as a Certified Cosmetologist, Gilliard broke into the business on the Charleston set of Army Wives. Since then herother film and television credits include The Hunger Games, Paper Towns, Banshee, Goosebumps 2 and Sleepy Hollow.
            In February of 2014 Gilliard was working on the infamous Greg Allman bio-pic, Midnight Rider, when a CSX freight train crashed through the set severely injuring her and several others. Camera Assistant Sarah Jones was killed. During her long convalescence Gilliard decided something had to be done. She founded the non-profit iSAFE! TV & Film initiative. When she's not working, chances are she's traveling for iSAFE presentations. She will lead a panel discussion at BIFF on February 20th, the fifth anniversary of the Midnight Ridertragedy.
            I spoke to her by phone just minutes after she'd closed on a house. In Atlanta. 
With an estimated $9 billion economic impact, the Georgia film juggernaut shows no signs of slowing. And, as the old adage goes, you've got to go where the work is.
            Joyce Gilliard: I still have my home in South Carolina, but I've been working here for a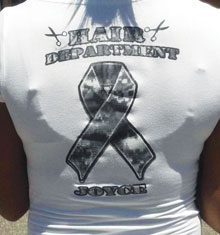 year and a half and paying [crazy] rent. It just made sense. I really want to work at home. I love it and my family is there and working from a distance is hard, but we accept that this is how it will be until the [film] incentives change. But my home base is always South Carolina. 
            Mark Shaffer:  On that note, congratulations on being honored at BIFF. 
            JG: Oh, gosh! I'm still in disbelief. It hasn't set in. Every time I think about it I get this anxiety because I'm like, "Me? Me?" It's such an honor to be recognized, but I never thought in a million years I'd be receiving any award for what I've done in the film business in SC.
            MS: Did you always want to be in this business or did it just sort of happen?
            JG: It just sort of happened. I grew up in SC and went to high school and beauty school there. My husband was military, so we moved away. But once he retired we decided to come back and make SC our home. Just before we moved back I ended up being a stylist on this reality show that kind of just happened. And I made some waves up north. But when we moved back I didn't really know anyone because we'd been gone so long.  That's when Army Wivesstarted. So, I decided to be an extra, and I changed my hair so much that they started noticing me and calling me because I could be these different people. And that's when I met the hair stylist and [eventually] the producer and that's how it started!
            MS: You've done a lot of TV as well as big films like Hunger Games and Disney's upcoming Jungle Cruise. How does the experience differ and do you have a preference?
            JG: The two are totally different. With episodic TV you can work on two episodes at a time. It can be a bit draining if you have back-to-back-to-back episodes to prep for versus film – once you're finished with a scene you move on. I like TV because it's [potentially] more work with a series. With film once it's over it's over. I've been blessed to be able to work on a lot of TV.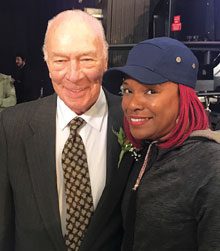 MS: I'm guessing you didn't spend a lot of time on Dwayne Johnson's hair on the Jungle Cruise shoot?
            JG: (Laughs) No! Actually, I can't tell the secrets, but he had his personal hair person.
            MS: Wait, he doesn't haveany hair! How does he have a stylist?
            (*****SPOILER ALERT*****)
            JG: (Laughing) In this show, he's totally different.
            MS: Wait, is that a spoiler? I think this is a spoiler.
            JG: Yeah, I can't really say, but it's definitely different and he does have his own hair people who've been with him for like 20 years.
            MS: Outstanding. I think that may be the first official major motion picture spoiler in this publication's history.
            (Laughter)
            That seems like it might have been a lot of fun to work on in a big studio with the likes of The Rock and Emily Blunt.
            JG: Actually, I had the opportunity to go to Hawaii with that show. They filmed most of it on Kauai, and then back to the studio in Atlanta.
            MS: There's the "A" word. 
            JG: Yeah. You know, when I was in SC things got so slow for me, and this is all I do.  I was able to work on a lot of commercials and small indie films and Trident Tech when they do the short films, but it wasn't enough to sustain me financially. I remember years ago when it was starting, everyone was saying I had to go. And I did not want to go to Atlanta. But when the work stopped in Charleston and in a week's time I got about 15 calls to work on a film in Atlanta, that's when my husband said I needed to go ahead and work in Atlanta. 
            MS: Here's hoping you get to work on a Marvel movie because they all shoot there. 
            JG: They do, and you know, every time they've been shooting here I was always working on something else. Like Black Panther? I was kind of mad that I was already on something. I think I was in Kauai at the time. 
            MS: Well, regardless of the outcome of the last Avengers, we do know Black Panther will return. Let's come back to that. 
            BIFF's first full day is February 20, a special day for you and your nonprofit iSAFE.  You're leading a panel discussion that day. This was born out of an on-set tragedy that killed a crew member and nearly took your own life. Can you tell me about it?
            JG: Well, I was hit by the train and my arm was reconstructed and the doctors told me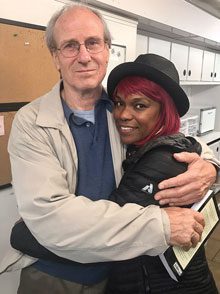 I'd never do hair again, and I needed to change careers. But during the time off, I felt I needed to do something, something to bring awareness to how dangerous sets can be. We're often working and very complacent, we don't think [this sort of thing] can happen to us. I never thought that I'd be part of such a tragedy.
            During that time I was in a lot of pain. I couldn't work and my mind was constantly going, thinking about what happened. But I had to focus on what I could do to bring about change. And that's why I created iSPACE TV & Film. 
            MS: And now you're back doing what you love. 
            JG: I am! I still have some limitations. Sometimes I forget until I'm put in a situation, but I work through it because I'm so Southern, I just have to do it. I push myself.
            MS: You don't strike me as someone who likes to sit around.
            JG: No, I wanted to prove that I was not going to give up and I wanted to prove to myself that this wasn't going to stop me. 
            MS: Have things changed since Midnight Rider?
            JG: Yes. Things have changed a lot on set. We have a long way to go, but people are more aware and apt to speak up when something doesn't feel safe and people are looking out for each other, now. But there are still people afraid to speak up. We've got a ways to go, but I see a big difference since Midnight Rider.
            MS: In the wake of the Me Too Movement and multiple Oscar nods for Black Panther, what are your thoughts for the future as an African American woman in film?
            JG: Wow! I think African American women are about to really make some waves in the industry!
            (Laughter)
            I can feel it in my gut. I'm actually about to start a major project with a female director and a female lead. This is gonna be really cool. I give it another year or two and everything is going to be female-oriented. (Laughs) Maybe even the Presidency…
GET MORE
Check out this year's honorees, complete schedule of films and events and book tickets at www.beaufortfilmfestival.com