Andie MacDowell and Pat Conroy head up the list of luminaries attending this year's Beaufort International Film Festival.

By Mark Shaffer
Andie MacDowell is a big Pat Conroy fan. Pat Conroy is a big fan of Andie MacDowell.
   Next February the author and the actress will have a chance to express their mutual admiration in person as the two come together for a landmark event during the ninth annual Beaufort International Film Festival. The bestselling author and Beaufort resident will present the Gaffney native with the inaugural Spirit and Pride of South Carolina Award. BIFF Executive Director, Ron Tucker says the star of
Sex, Lies & Videotape,
Four Weddings and a Funeral
,
Green Card
and
Groundhog Day
, will be recognized for bringing great credit to her home state through her outstanding career in film and television. Tucker was inspired by a piece MacDowell contributed to the recently published collection of essays and images edited by Beaufort author, Wendy Nilsen Politzer, titled
South.
It seemed like a perfect fit.
            "Beaufort used to be the film capitol of the south and we're the oldest non-profit film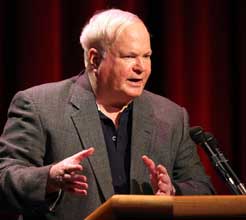 festival in the state," he says. "So who better than us to recognize someone like Andie MacDowell for what she's achieved and how that's reflected on South Carolina? And who better than Pat Conroy to present it? I think this is big for us and big for the state."
            For some years now it's been a fall tradition to sit down with Ron and Rebecca Tucker, the powerhouse duo behind the Film Society and BIFF, for a sort of "State of the Festival" preview. Today the timing is particularly interesting…
           
           Mark Shaffer: Just a few seconds ago Andie MacDowell confirmed that she was indeed coming.
            Ron Tucker: That's right. (Pause) Wow.
            MS: It was kind of a "wow" moment. She's really excited to be a part of the festival.
            RT: She says that even if something in the way of a conflict with a job comes up, she'll carve out the time to attend.
            MS: While that's still sinking in let's talk about the rest of the fest. The deadline for entries is right around the corner. How's it shaping up so far?
            RT: I probably say this every year, but it looks like the quality of entries is the best we've ever had in every category. In years past the Feature Film category's not measured up to the other categories. This year it's probably the strongest. It looks like we'll have five strong finalists this year. In fact one is a local film from Greenville, South Carolina.
            The documentaries are strong and they cover subjects you might expect like homelessness and drug abuse. They're all very thought provoking with a potential impact on the community.
            MS: The last few years it seems that the documentary category's been extremely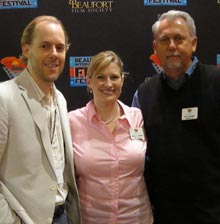 strong sometimes with a direct impact. The whole local Dragon Boat movement was born during a screening and grew from there.
            RT: The film about homelessness is set in Wilmington, North Carolina. The audience is going to get the idea that this could just as easily be Beaufort. And films like this provide the perfect opportunity for local organizations like HELP to get involved. I've already mentioned to [HELP President] Steve Curless that if this film makes the cut he should be involved. When people react strongly like they did following "Awaken the Dragon," they want to do something immediately.
            MS: The student films have been nothing short of remarkable in recent years.
            RT: We've got entries from all over the country and a few from places like the Czech Republic. SCAD has a couple of strong entries this year. The North Carolina School for the Arts is always strong.
            MS: And, of course, there are the returning alumni – and I'm talking about the filmmakers – who come as often as they can. Some come year in and year out, others may miss a year because of work or scheduling, but there are times when it feels kind of like a family reunion.
            RT: We have submissions from a lot of alumni in most of the categories, so that tradition continues to build.
            MS: And then there's the word of mouth aspect that just keeps building.
            RT: It's how these filmmakers work. They come here and have this great experience and they tell other filmmakers about the festival. For instance, last year's winner for Best Director, Katharyn Grant, mentioned us to a filmmaker at another festival who entered on her recommendation and it's one of our strongest submissions in the category. Word of mouth is really important. In fact, that film – "Suck It Up, Buttercup" – won that festival and we probably wouldn't have seen it had it not been for Katharyn.
            MS: The state film commission will highlight their Indie Grants program as usual?
            RT: They will. It's always good to see what's happening with our local up-and-coming filmmakers. And it's a great opportunity for them to pitch a captive audience on making movies in South Carolina.
            MS: Assuming most of these films make the cut, this could be the year of the character actor in Beaufort.
            RT: Yeah, there are a few interesting names involved in a few of these films. John Diehl (Miami Vice, Jurassic Park 3, The Shield) is in one of the student films. His son's the director. Max Gale (Barney Miller, Sons & Daughters, 42) has a starring role in one of the feature films and so does Ted Levine (Silence of the Lambs, Heat, Monk). They're all very strong contenders and I'd be surprised if they weren't finalists.
            MS: Last year we had to contend with a freak winter storm that gridlocked a big part of the nation and the state. But even so, attendance didn't seem to suffer too much.
            RT: People still managed to get here. A lot of the filmmakers got here early and beat the storm. There were a lot of great stories. We've got a group of women from Connecticut who come every year. They braved the blizzard to get here and were waiting at the door when we opened after a brief weather delay. They weren't going to miss it. That's a strong testament to how committed our following is.
            MS: And Elizabeth Yoder, who won Best Actress, made a legendary journey from California somehow.
            RT: Her story was a lot like Planes, Trains and Automobiles. But she made it and one of the great things about this festival is the sense of community. Knowing what she'd gone through to get here, I reached out to [another filmmaker] at 10:30 that evening. He contacted her right away and she joined the group downtown and they all bonded from then on.
            MS: We've watched this thing grow and evolve into what Movie Maker Magazine called one of the coolest film festival experiences in the country. Any thoughts on what might be in store for the 10th anniversary?
            RT: That's a great question but first I've got to get us though the ninth.
(Laughter)
            Rebecca Tucker: We want to grow and keep pace with the times, but we also want to keep it intimate and continue to raise the bar – take the best of the best and pay special attention to what plays best in Beaufort.
GET INVOVLED
Join the Beaufort Film Society for their upcoming meet & greet and silent auction November 11th at Sweetgrass at Dataw. The 9th Annual Beaufort International Film Festival kicks takes place February 11-15, 2015. Click on beaufortfilmfestival.com or call 843-522-3196 for more information.