The 9th Beaufort International Film Festival Shatters Expectations
By Mark Shaffer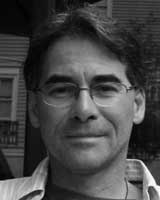 THE BIFF BUZZ
"A true gem on the festival circuit. I can only see it continuing to grow."
   – Geoffrey Gunn, Best Director nominee, Last Night at the Ellington
"This film festival is legendary"
   –  Melindi Fickle, Director Best Feature Nominee, "Suck it up, Buttercup"
"We just want to thank Beaufort. We've never seen a reception like this."
     – Evan Vetter, Dir. Best Short, Times Like Dying
" The Beaufort International Film Festival has become one of the quintessential cultural events in the Lowcountry and South Carolina."
      – Pat Conroy, Bestselling Author, The Death of Santini
The Valentine's night timing couldn't have been better or more fitting for the awards finale to
this year's Beaufort International Film Festival. There was plenty of love and affection on stage at the USCB Center for the Performing Arts. Emcee Anneliza Itkor set the tone by urging the crowd to pull out their phones, snap Beaufort's largest "selfie" and post it to the film festival's Facebook page. Beaufort's own Pat Conroy graced the audience and honoree Andie MacDowell, with a love letter to the Groundhog Day star: "I fall in love with her again every time I see her on screen." The bestselling author of The Prince of Tides presented MacDowell with the inaugural Spirit and Pride of South Carolina Award – an extravagantly crafted glass sculpture of a palmetto and crescent moon.
The evening's other native honoree, longtime scout and location manager Steve Rhea, picked up a well deserved Behind The Scenes Award. Rhea, who has worked with the South Carolina Film Commission since its inception, told the packed house that, "Great films can be made in South Carolina, about South Carolina, and by South Carolinians."
But for the most part it was the non-natives – filmmakers from across the nation and around the globe – who dished out the love for BIFF and the town of Beaufort. And they dished it out through a constant flood of social media to followers, fans, friends and family who in turn reposted and retweeted to their contacts. And on and on it went. In fact, on and on it goes.
More than 70 filmmakers – writers, producers, directors, editors, cinematographers and actors – traveled to Beaufort to support their projects. Others simply showed up just to see what the buzz was about. Familiar faces mingle with the rookies, old friendships pick up where they left off, partnerships are formed, and post-screening cocktails are shared. The buzz builds and builds and if this year's results are any indicator, the10th edition of South Carolina's largest film festival will be, as one filmmaker put it, "Epic, indeed."
A week after the closing ceremony festival runners Ron and Rebecca Tucker are almost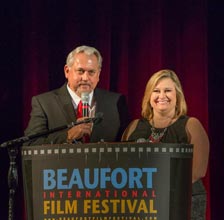 recovered. Almost. It's something of a BIFF tradition for the three of us to sit down and do a post mortem on the festival; kick around what went right compared to what went wrong. This year the list of needed improvements is downright miniscule. In fact, we all agree that from the record-shattering opening night gala, through the course of the fest there was a very different vibe compared to previous years due to the unprecedented number of filmmakers and their social networking.
"For starters," says Rebecca, "every filmmaker who came this year sought us out to tell us how much they enjoyed the festival and how it compared to others."
"They were giving us live in-progress reviews," says Ron. "When they walk up to you and say, 'We've been to Cannes and we've been to Sundance and this is better' it just sort of blows your mind."
Part of what makes BIFF unique is that it takes place under one roof, under the Big Top, so to speak. This makes for an intimate setting like no other.
"Everyone made a point to tell us how much they loved Beaufort," says Ron, "and how much the town seemed to love the film festival. And every single filmmaker told us they were going to tell everyone they knew about us. So the word of mouth just grows and grows and grows."
This year the festival ran like a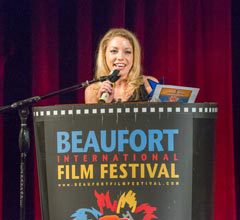 well-oiled machine, largely due to the dedicated staff of film society volunteers, the USCB Center for the Arts staff, and Plum Productions. And while there are a few improvements to be made for 2016, the Tuckers are just fine with basking in the afterglow of what is certainly the breakout year for BIFF.
"All the compliments and the social media buzz from the filmmakers is great," says Ron, "but when Pat Conroy calls us 'one of the quintessential cultural events in the Lowcountry and South Carolina,' well that puts us over the moon – a Carolina moon."

'BASEMENT BOB' AND BEYOND
Final numbers should put total ticket sales well above ten thousand for the 4-day event, about two thousand more than 2014.

Approximately 65 percent of festival attendees (excluding filmmakers) were from outside of a 50-mile radius of Beaufort including Alaska, California, Massachusetts, Rhode Island, Connecticut and Wisconsin.

Attending filmmakers represented 30 states and four countries.

Filmmakers and veteran BIFF attendees, Gary Weeks, VW Scheich and Uyen Le, officially unveiled Basement Bob – a feature length comedy the trio intend to film next fall in Beaufort. The idea to shoot a feature film in Beaufort was born out of their BIFF experience.
Visit www.rareformpictures.com to find out how to get involved with Basement Bob. For more information about BIFF, visit www.beaufortfilmfestival.com