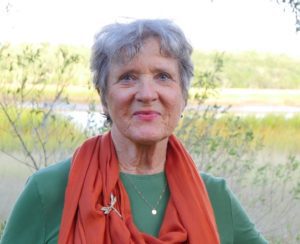 On Wednesday, January 20, at 6:00 p.m., the Pat Conroy Literary Center and NeverMore Books will host a free virtual evening with Estelle Ford-Williamson, author of the new novel Rising Fawn, in conversation with the Conroy Center's communications and events coordinator Brooke McKinney. Estelle and Brooke will be joined by a special appearance by Jennifer Daniels, a Lookout Mountain-based alt-country, folk rock band that inspired a scene in the novel.
This program will be presented on Zoom. Register in advance through the Conroy Center Facebook page, www.facebook.com/patconroyliterarycenter, or at https://bit.ly/2LX3Uex. The event will also be livestreamed on the Conroy Center's Facebook page; no registration reviewed to view. Signed copies of Rising Fawn are available locally in Beaufort at NeverMore Books (702 Craven St., www.nevermorebooks.com).
About Rising Fawn: "A routine case of identity fraud takes a young woman on a shocking journey of self-discovery, where she's forced to uncover a tangled skein of family secrets that will change the course of her life. Her journey, which begins in the modern world of corporate business, takes her deep into a wild and primitive landscape that carries its own mysteries and dark secrets. Rich in detail, poetic imagery, and fast-paced narrative, Rising Fawn is the kind of book that keeps you turning pages late into the night."—Cassandra King Conroy
Estelle Ford-Williamson is a novelist and memoirist whose most recent book, set in Rising Fawn, GA, has won awards from the Sandhills Writers Conference and the Atlanta Writers Conference. Her previous books were Abbeville Farewell: A Novel of Early Atlanta and North Georgia and Seed of South Sudan: Memoir of a Lost Boy Refugee, written with Majok Marier. She has received Poets and Writers grants for readings and workshops in Atlanta and New York, and has presented memoir workshops through the Pat Conroy Literary Center in Beaufort, SC, as well as for the Lou Walker Senior Center in DeKalb County, GA. A short story drawn from Rising Fawn was a finalist for the Short Story America Festival in 2017. Born in Chattanooga, TN, Ford-Williamson graduated from Saint Mary's College, Notre Dame, IN, and worked as a reporter for UPI in Atlanta, where she later worked as a management trainer and career specialist before writing her first novel. She moved to the Beaufort, SC, area in 2016.
Learn more about the nonprofit Pat Conroy Literary Center online at www.patconroyliterarycenter.org or in person at 905 Port Republic Street in downtown Beaufort.