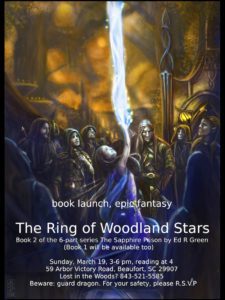 Ed R. Green will host a book launch for The Ring of Woodland Stars, the second book in his first series of epic fantasy novels – The Sapphire Prison – on Sunday, March 19th. The first book in the series, Hope, which people should read before Ring, will also be for sale at the book launch.
From Green's author bio: "When not on the planet Mera researching the last book in his second series, award-winning author Ed R. Green writes in his home in Beaufort, South Carolina. The initial draft of his final book should be finished shortly, provided Ed, who tends to get distracted, can tear himself away from his Meran friends long enough to finish it.
"At any rate, award-winning author Ed R. Green is a physical therapist, massage therapist, and Reiki master. He earned a BS in Economics, Mathematics, and Psychology, triple major (while his friends kept changing their majors, he kept adding) from the University of North Carolina at Greensboro. Later, a Master of Physical Therapy degree from Emory University in Atlanta. He owned a therapy practice treating people and horses. His publications include technical works on physical therapy. He authored the six books that comprise his epic fantasy series The Sapphire Prison. He is currently writing the last of the four books in The Orb of Ascendance. Orb involves the heroes who were still breathing at the end of Sapphire."
About The Ring of Woodland Stars: Fresh from their victory over Kehlburn's goblin army, progress in the war looks pretty rosy for Terek, Alora, and the peace-loving realms of Niandria. That is, assuming the traitor Terek accidentally killed months ago didn't do too much damage in their home city. It's hard to believe Kehlburn would just give up on whatever nefarious schemes he cooked up that involved the man. And what else has that evil magician been up to? One way or another, Terek and his friends will have to deal with it when they get home. 
Green's book launch will take place on Sunday, March 19th, from 3 – 6 pm, with a reading at 4 pm. Refreshments will be served. 59 Arbor Victory Road. Please RSVP at 843-521-5585.