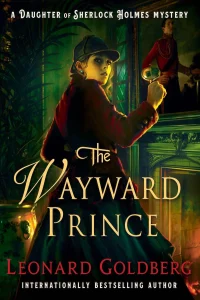 NeverMore Books and the nonprofit Pat Conroy Literary Center will host an evening with USA Today bestselling mystery novelist Leonard Goldberg, author of The Wayward Prince (Book 7 in the Daughter of Sherlock Holmes Series), in conversation with Conroy Center executive director Jonathan Haupt. This free event will be held on Wednesday, August 9, at 5:00 p.m., at 910 Port Republic St, Beaufort. Books will be available for sale and signing. Call the bookstore to reserve your seat: 843-812-9460
About The Wayward Prince
During the height of the Great War, playboy Prince Harry, the third in line to the British throne, vanishes in thin air while horseback riding in Hyde Park. The concern deepens when MI5 decodes a recent message from German spies in London which speaks of a captured asset that will bring great embarrassment to the Crown. With Scotland Yard and MI5 baffled, Joanna Holmes, daughter of the famed British detective, and the senior and younger Dr. Watsons are called in, and they soon find themselves entangled in a web of murder, treason, and spies, all of which is seemingly being orchestrated by an arch-enemy of the long-dead Sherlock Holmes.
"Goldberg amply demonstrates once again just how compelling a figure Joanna Holmes has become. Simply put, this series is one of the best continuations of the Sherlock mythos that one could hope for."―Mystery Scene
About the Author
Leonard Goldberg is the USA Today bestselling author of the Joanna Blalock medical thrillers and the Daughter of Sherlock Holmes mystery series. His novels have been translated into a dozen languages and were selections of the Book of the Month Club, French and Czech book clubs, and The Mystery Guild. They were featured as People's "Page-Turner of the Week" and at the International Book Fair. After a long career affiliated with the UCLA Medical Center as a Clinical Professor of Medicine, he now lives on an island off the coast of Charleston, SC.
Learn more about the Conroy Center at www.patconroyliterarycenter.org and about NeverMore Books at www.nevermorebooks.com.