The Annual Members Show opens at the Coastal Discovery Museum at Honey Horn in the Hilton Head Regional Healthcare Gallery on October 9th with a reception from 5:00 – 7:00 PM. The Art League hosts this exhibit, which runs through November 2.
Traditionally Art League members place their best work in this show and they are allowed one piece only. There is special excitement this year: due to the smaller venue only 85 artists are represented; who will it be? The Gallery has an intimate feel and the artwork will be bathed in natural light from the beautiful grounds surrounding Honey Horn.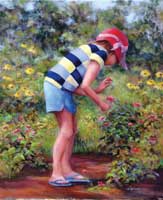 The exhibit represents all media and subject matter and all artwork will be for sale. Here's a small sampling to wet your palate. A bold and engaging plein air painting titled "At the Bluff's Edge" by Richard Coyne depicts a slice of the May River shoreline. David Musial's oil "Hilton Head Animal Shelter" captures the locals love and devotion to their four-legged friends in his unique and often humorous style. A vibrant pastel by Barbara Snow renders a "Solitary Tree" towering over the marsh and the pluff mud. A charming oil "One for You and One for Me" by Anita Stephens in irresistible colors captures a child in a lush garden. An intriguing mixed media collage "The Age of Aquarius" by Irene Williamson makes your gaze linger; it appeals to both sides of your brain complementing the rational elements with the creative and primal streaks in us.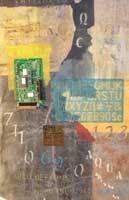 The show will be open daily from 9 AM – 4:30 PM, and 11 AM – 3 PM on Sunday. Entrance is free. Do not miss this once-a-year exhibition, it offers a visually rewarding experience in an irresistible Lowcountry setting.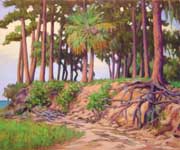 The Art League of Hilton Head is the largest visual arts organization on the Island, and as a not-for-profit 501 (c) 3 membership organization operates a gallery in Pineland Station for the exhibition and sale of artwork by its members. The Gallery is open Monday to Saturday from 10:00-6:00. For more information call 843-681-5060 or check at www.artleaguehhi.org