The nonprofit Pat Conroy Literary Center's monthly virtual Open Mic Night will conclude for the year on Thursday, December 8, at 6:00-7:30 p.m., headlined by special guest writer Juan Eugenio Ramirez, author of the newly published novel The Man with Wolves for Hands, winner of the Nilsen Prize for First Novel.
Live-streamed on the Conroy Center's Facebook page (www.facebook.com/patconroyliterarycenter) the Open Mic Night is presented in partnership with the statewide nonprofit South Carolina Writers Association and features short readings of poetry and prose by a rotating cast of writers from across and well beyond the lowcountry. All genres and all levels of writing and publishing experience are welcome in the open mic format. The monthly program concludes with longer readings by special guest writers. Recent headliners have included Angelo Geter, the Poet Laureate of Rock Hill, South Carolina; Monica Lee Weatherly, winner of the Willie Morris Award for Southern Poetry; and Susan Cushman, author of Pilgrim Interrupted.
December's featured writer Juan Eugenio Ramirez is the author of The Man with Wolves for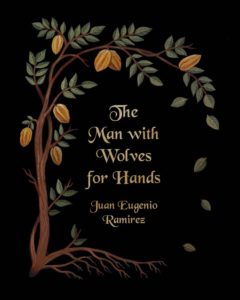 Hands, published by Southeast Missouri State University Press in September 2022 and selected as the winner of the Nilsen Prize for First Novel. Though born in Washington state, Ramirez spent most of his formative years in Florida. Having taught both middle school and high school these past fifteen years, he holds an MFA in poetry from Sarah Lawrence College and a BA from Florida State University. His work has appeared in The Carolina Quarterly, Armchair/Shotgun, and Madcap Review. He currently teaches high school English at St. Francis School, an independent, progressive education school in Louisville, Kentucky.
"Juan Eugenio Ramirez renders the colorful denizens and stark strangeness of the Sunshine State with a poet's eye and an absurdist's heart. Weirdly funny and wildly fun, The Man with Wolves for Hands is a marvel of a novel. Ramirez might be our new Harry Crews—or maybe our Lorca."—Ryan Ridge, author of New Bad News and American Homes
"The Man with Wolves for Hands blends origin myths and apocalyptic revelations, feral fairy-tale and sharp-toothed satire, whimsical daydreams and vivid nightmares. Weird fiction just got wilder—and more beautiful."—Annie McClanahan, author of Dead Pledges: Debt, Crisis, and 21st Century Culture
Writers interested in participating in future Open Mic Nights can email the Conroy Center at contact@patconroyliterarycenter.org.
To learn more about the Pat Conroy Literary Center, visit in person at 601 Bladen Street Thursday through Sunday from noon to 4:00 p.m. or online at www.patconroyliterarycenter.org.