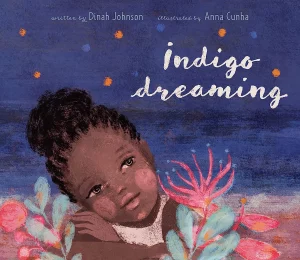 "A gorgeous book that will touch every child's longing to connect with someone 'out there' who is like them," is how School Library Journal praised Indigo Dreaming, the newest picture book from award-winning children's author Dinah Johnson. Indigo Dreaming is a meditation on place, wonder, and connectedness as experienced by two young girls on opposite sides of the Atlanta Ocean.
Dinah Johnson will be the special guest author at the Pat Conroy Literary Center's annual Children's Book Fair, to be held on Tuesday, August 8, from 10:00 a.m. to 2:00 p.m. at the Port Royal Sound Foundation Weezie Educational Pavilion (130 Okatie Hwy, Okatie). Presented in partnership between the nonprofit Conroy Center, the Port Royal Sound Foundation, the Storybook Shoppe children's bookstore, and DAYLO: Diversity Awareness Youth Literacy Organization, this special event is free and open to the public.
Johnson will give a reading from Indigo Dreaming at 11:00 a.m. Student volunteers from DAYLO will be hosting a Teddy Bear Picnic read-aloud throughout the event.
Other participating authors and artists in the Children's Book Fair are Patricia Bee, author of Try'umsee's Wings; Bill Borg artist of
Myrtle the Loggerhead Turtle; Rebecca Chamberlain, author and artist of Maralee & the Turtles of the Sea; Lisa Anne Cullen, author and artist of Haskel and Greta; Mary T. Jacobs, author of the Big Daddy Series; Ann Eilers Lilly, author of Scoot's Savannah Rescue; Susan Montanari, author of My Dog's a Chicken; Robin Prince Monroe, author of The Silent Glades; Sheree Richnow, author of Dixie the Rescue Dog Makes New Friends; and Susan Diamond Riley, author of the Delta and Jax Mystery Series, including, most recently, The Sea Witch's Revenge.
All Hands on Deck, the student anthology from the 6th annual Camp Conroy will also make its debut at the Children's Book Fair. And the Bluffton-based Storybook Shoppe will have a selection of other popular lowcountry children's books available as well.
About the Featured Author:
Dinah Johnson is the award-winning author of many books for young readers, including H Is for Harlem, which received five starred reviews and was named a Kirkus Best Book of the Year, a School Library Journal Best Book of the Year, and a Horn Book Fanfare title. Indigo Dreaming is her most recent book. A professor of English at the University of South Carolina, she lives in Columbia.Learn more at www.dinahjohnsonbooks.com.
Learn more about the Pat Conroy Literary Center at www.patconroyliterarycenter.org, about the Port Royal Sound Foundation at www.portroyalsoundfoundation.org, about the Storybook Shoppe at www.thestorybookshoppe.com, and about DAYLO at www.instagram.com/beaufort_daylo.