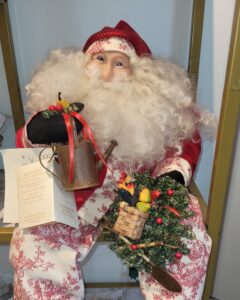 Artists of the Society of Bluffton Artists (SOBA) are creating original, one-of-a-kind handmade gifts for their Holiday Market, which runs from Nov. 13 through Dec. 23 in the featured artist room at the gallery in Old Town Bluffton.
The SOBA Holiday Market offers the community a unique place to shop for the holidays with hundreds of hand-created works by local artists — including wreaths, small paintings, holiday decor and other gift items.
"The Holiday Market is a SOBA wintertime tradition — perfect for those shoppers looking for something unique this holiday season," said Marie Burgeson, SOBA's president.
The boutique is open from Nov. 13-Dec. 23. The SOBA gallery hours of operation are from 10 a.m.-5 p.m. Monday-Saturday and from 11 a.m.-3 p.m. Sundays.
About The Society of Bluffton Artists:
SOBA is the heart of the flourishing art hub in Old Town Bluffton's historic district at the corner of Church and Calhoun streets. As a non-profit art organization, SOBA offers regular art classes, featured artist shows, exhibitions, scholarships, outreach programs and more. The gallery is located at 6 Church Street and is open from 10 a.m.-5 p.m. Monday through Saturday, and 11 a.m.-3 p.m. on Sundays. Please visit www.sobagallery.com for a complete calendar of events and other information or call 843-757-6586.