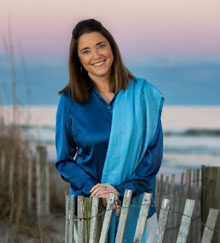 Bestselling novelist Mary Alice Monroe on her new book, her next project, and her upcoming fundraiser for the Beaufort County Open Land Trust and Nemours Wildlife Foundation.

By Margaret Evans, Editor
Mary Alice Monroe is what they call 'a force of nature.'
            She's a powerful force for nature, too, having just finished the fourth and final novel in her "Lowcountry Summer" series, a family saga set on Sullivan's Island that addresses the plight of the Atlantic bottlenose dolphin. It's just the latest in a long and prolific career writing what Monroe calls "purpose-driven" environmental fiction.
            About her decision to incorporate the dolphin into this particular series, the award-winning, New York Times best-selling author wrote on her blog a few years ago, "I have many species I want to write about, a long list.  I wait for some sign from the universe, some tapping on my intuition, a whispering that tells me 'choose this one now.' One day, during a special meeting for the board members of the South Carolina Aquarium, I got 'the sign' when guest Philippe Cousteau urged me to write a book set against the issues threatening dolphins today.  I had just seen the film The Cove, and Dr. Pat Fair from NOAA had informed us that almost half of the dolphins living in Charleston's estuarine waters were sick. Shocking! So I cannonballed off that proverbial dock into the world of wild dolphins, and after three years of research surfaced with not one story but three!"
            Monroe finished that planned "trilogy" with the publication of The Summer's End last May. But then something interesting happened.
            "The trilogy was done . . . but I realized I wasn't. For me, the story just wasn't finished. I needed to see how things settled out."
            So now the trilogy is a quartet. A Lowcountry Wedding will be out next month, completing the story of the Muir sisters in grand southern style.
            "There were some engagements in the last book," says Monroe, who lives on a barrier island near Charleston. "In this one, I wanted to explore the idea of the Lowcountry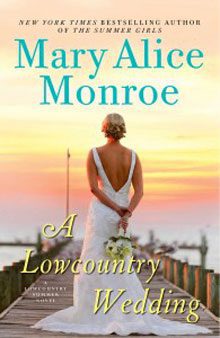 wedding. To ask questions like, 'Why is Charleston the number one wedding destination in the country? Is it just about the beautiful setting, or is there something more? Does it have something to do with tradition? Why would even the most independent, modern woman want a traditional wedding?' And I wanted to ask: What is a Lowcountry wedding, anyway? What does that mean? Is it on a centuries-old plantation under moss-draped live oaks? Is it on the beach? Well… yes! I also wanted to explore the question of etiquette and how it evolves. What better way than through three generations of women planning a wedding? All the generational differences about protocol . . . the angst… the turmoil . . ."
            And then, of course, there was Delphine.
            "That dolphin is the thread running through this whole series. And I wasn't finished with her story."
            Monroe says she wanted to help her readers answer the question: What is wild?
            "I wanted them to understand the majesty of a dolphin in the wild. I hope I succeeded. I think I did."
            No doubt her legion of fans will agree. And those who live here in the Beaufort area will have a chance to meet Ms. Monroe – and receive a signed copy of her new book – when she speaks at a fundraising event cohosted by the Beaufort County Open Land Trust and Nemours Wildlife Foundation on Sunday, May 22nd.
            "I'm excited about this event," says Monroe. "And honored to be doing it. The work done by the Open Land Trust is so very important. We are blessed here in the Lowcountry because of the many gifts of land that have been endowed to us."
            The Beaufort County Open Land Trust – which, at 45, is the oldest land trust in the state – is currently responsible for over 23,000 acres of endowed land, in Beaufort, Jasper, Colleton, Bamburg, Barnwell and Hampton. Thanks to the work of the Land Trust – and the generous cooperation of the property owners – this is now land that can never be developed. Ever.
            "Because of the land trusts, we have actually been able to maintain the character of this special place we call the Lowcountry," says Monroe. "But the work is never done. Today, we must fight all the more fiercely to protect our landscape and its traditions. Once it's gone, it's gone forever."
            Land Trust board member Pat Denkler is thrilled Monroe signed on for their May fundraiser. "I had the wonderful opportunity to meet Mary Alice through a mutual friend, and because of her deep commitment to environmental causes, she offered to do this for us. We couldn't be happier."
            Denkler's not just a fellow environmentalist . . . she's also a fan. "I can't wait to get my hands on A Lowcountry Wedding," she says. "I've read the other three books in the series, and it's just such a great story. The characters are so strong. The grandmother, Mamaw … the three half sisters… The way Mary Alice weaves her environmental knowledge into the story… it's just incredible. She teaches us what we, as people, should and should not be doing – whether it's feeding dolphins, humanizing them, etc. And as a speaker… wow! Once you hear Mary Alice speak, you wish she would just go around the world giving these talks . . ."
            Of course, then there wouldn't be much time for writing. And writers must make writing the priority. . . right?
            Not necessarily. Ask Mary Alice Monroe which comes first – the storytelling or the cause? – and she doesn't hesitate for a second.
            "Oh, the cause!" she says, with characteristic passion and humor. "I don't even have a story until I've done my research. My modus operandi is like this: once I've chosen my species, then I do my research. And by 'research,' I mean 'volunteer.' I always develop my theme from what I learn from the animals – and the people who care for them – then plot and characterization flow from that…"
            Before she took up with dolphins, it was the loggerhead turtle that captured Monroe's heart, inspiring her to write her Beach House Trilogy. (The first of that series, The Beach House, is currently being adapted into a Hallmark Channel Original Movie starring Andie MacDowell.)
            So, what's next for this passionate environmentalist/novelist? Shore Birds.
            "I'm already volunteering," she says. "I've been focusing on pelicans so far, but who knows where it will go? I have a lot more to learn. I don't have a sense of my story yet. I'm very intuitive. I come to know my story through my work…"
            And through her stories, so many come to know this wondrous, fragile environment of ours . . . and what we must all do to preserve it for future generations.
A Lowcountry Barbecue, cohosted by Beaufort County Open Land Trust and Nemours Wildlife Foundation, will take place on Sunday, May 22 at 11:30 AM on the magnificent grounds of Nemours Plantation near Yemassee. Tickets are $85 per person, and are limited. To purchase yours, contact the Open Land Trust at 843-521-2175.
Read more about Nemours Wildlife Foundation at www.nemourswildlifefoundations.org
Read more about the Beaufort Open Land Trust at www.openlandtrust.com
Read more about Mary Alice Monroe at www.maryalicemonroe.com