Local author Tim Johnston, who has been hailed as one of the modern masters of the short story, will sign copies of his new book, Friday Afternoon and Other Stories, at a launch party for the book on Friday, May 20th, from 4-7 pm. The historic Lewis Reeve Sams House, also known as the Prince of Tides House, will be the site of the event.
Johnston, who lives on Lady's Island with his wife, Stacey, and their three children, is known as T.D. Johnston to readers outside of the Lowcountry. North Carolina author Ray Morrison recently called him "one of the finest voices of contemporary short fiction." Says Johnston, "I have been floored by the response of writers and editors to this book. I hope that it is as rewarding for readers as it has been for me in creating the human souls who inhabit these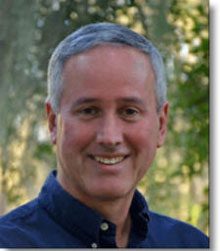 stories."
The title story of the collection is in film development in California. The producer and director of the film will be visiting Beaufort for the book party, and will entertain suggestions and questions about the possibility of the film being made in the Lowcountry.
The public is invited to the book launch party, where Johnston will sign copies and will read an excerpt from one of the stories. Readers who cannot attend the event can get a signed copy by going to www.tdjohnston.com, or after May 20th by going to Beaufort Bookstore, Nevermore Books, Magnolia Cafe (where Johnston frequently visits for breakfast), or Mango's Gift Shop on Fripp Island.